(Updated 1/3/2010)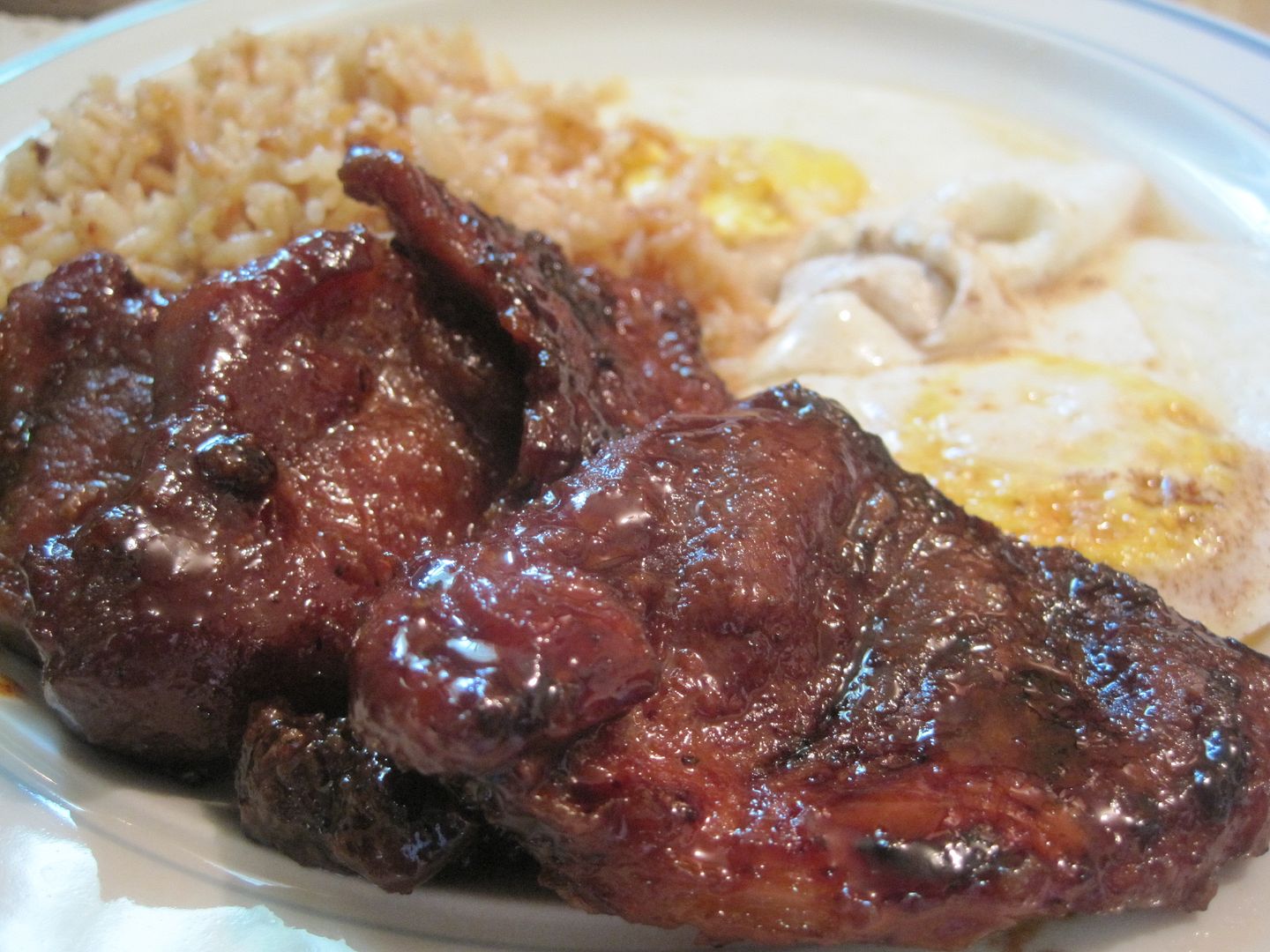 We love this homemade tocino recipe and so have many of our blogging friends who have tried it. There are many different versions of making Filipino tocino out there, but very few of them use cider vinegar like this one. Most of the ones I have seen online and even in most cook books only have salt and sugar as the main ingredient. I kind of like having the vinegar on mine. It's not a lot so it's not overpowering, but just enough to balance out all the other flavors and cut the sweetness a bit.
The proportions of the marinade below makes a heck of a lot! So if you're just making a small portion, make sure you cut it down or you'll end up with your meat swimming in marinade. When I make a batch of tocino, I usually use two Boston butt roasts that are about 3-4 pounds each. Slice up the roasts to the desired thinness (usually about 1/8 to 1/4 inch thick slices) and let them soak in the marinade in the refrigerator. Ideal time is to let them soak at least overnight and up to 5 days in the refrigerator as mentioned in the recipe below.
However, since sometimes you won't always have room in the ref or just too hungry to wait before cooking some, I have found out that (1) you can cook them immediately, just cook in some of the marinade with it (2) you can also immediately portion them into freezer bags and let them marinade in the freezer.
When frozen, they can probably stay safely in your freezer for 6 months as recommended for most meats. Let me tell you though, even if you make as much as I do, they probably won't last more than a couple of months. We eat them for breakfast, but when we're short on time for dinner, they also come in very handy for dinner. Just steam some veggies and rice to go with them, and they're good to go!
Like with most of the recipes on this blog, don't be afraid to play with the proportions to suit your taste. Experiment! That's what cooking is all about. When you change it up, make sure and come back and share your experiment with me. I just may copy you the next time I make a batch 🙂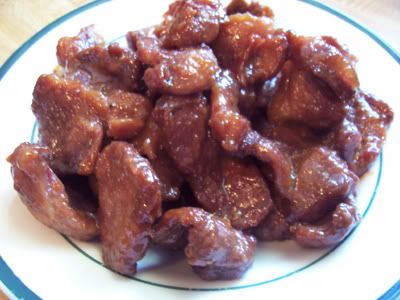 Prep time:
Cook time:
Total time:
Following is the marinade recipe and method of cooking for Filipino style pork tocino.
Ingredients
MARINADE for 2-3 lbs. pork:
1 cup apple cider vinegar
½ cup soy sauce
3 cups brown sugar
3 Tablespoons salt
2 Tablespoons ground pepper
1 Tablespoon garlic powder
Instructions
Mix all the ingredients and pour over thinly sliced (an eighth to a fourth of an inch thick) pork with a little marbling of fat. I used a 2-3 pounds boneless boston butt roast and did not trim any of the fat away.
Mix the meat so it is well covered with the marinade. Let it sit, covered, in the refrigerator for five days before cooking or freezing.
I usually bag small (quart sized ziplock bags ) portions, enough for breakfast for two or four people, and freeze it.
Notes
HOW TO COOK: To cook tocino, place desired amount of marinated pork meat in a small skillet with a cover. Do not put additional water. The marinade that is still on the meat plus it's own moisture will be enough to cook the meat. And since you presumably used a cut with a marbling of fat, you don't need to add oil either. Put over medium heat and cover. Let it cook until all the liquid has evaporated and the tocino starts to sizzle. Keep stirring to keep it from burning. Cook until it has caramelized and brownish red in color. If you're using a frozen packet, put it in the skillet and start out with low heat. When the meat has defrosted and separated, turn the heat up to medium and cook as above.
OTHER BLOGGERS WHO HAVE TRIED THIS RECIPE:
Simply Anne's Tocino & Langonisa
The Feisty Cook, Dexie's Homemade Pork Tocino with Onions