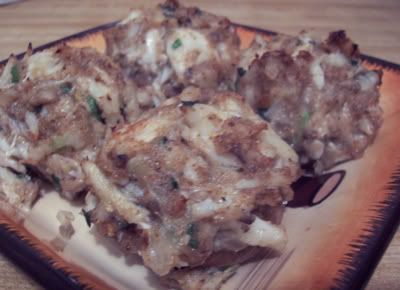 This is an old appetizer standby, and a favorite at parties. For parties, you probably should use smaller, bite sized mushrooms. This time though, I had some large mushrooms that were just waiting to be stuffed so I fixed this for dinner for me and the husband and still had plenty leftovers for lunch the next day. We had a nice big salad with plenty of tomatoes and cucumbers from the garden with these and they were delicious! It was a perfect, light summer dinner.
INGREDIENTS:
12 fresh mushrooms, large
3 Tablespoons butter
1/4 cup onions, chopped fine
2 cloves garlic, minced
1/4 cup spring onions, chopped
1 cup (a little over) lump crab meat
2 Tablespoons mirin
1/4 cup mayonaise
2 Tablespoons Parmesan Cheese
1/4 cup breadcrumbs
Salt/pepper to taste
Olive oilRemove the mushroom stems and chop, set the mushroom caps aside. In a skillet, melt the butter and add the onions, garlic and chopped mushroom stemps. Saute' for a few minutes until they are fragrant, the onions are translucent and almost all liquids have evaporated. Stir in the spring onions, mirin, mayonnaise, parmesan cheese, and bread crumbs. Remove skillet from the heat and add the crab meat. Mix well and season with salt and pepper as needed.Spoon the crab mixture into the mushroom caps and place them on a baking dish. Drizzle with olive oil and bake at 350 degrees F for 20 minutes.