This is a slight twist on a previous recipe for Shrimp in Garlic Butter. For this variation, a garlic aioli is served as an additional sauce or dip for the shrimps.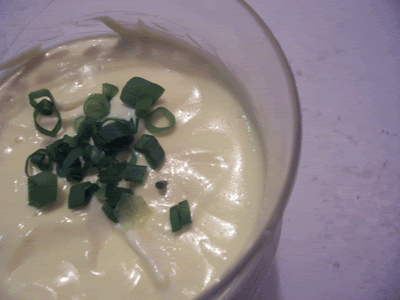 Aioli is basically a homemade garlic mayonnaise. To make aioli, you will need:
3/4 cup olive oil (I used extra virgin)
3-5 garlic cloves
2 egg yolks
1 Tbsp Dijon mustards
2 Tbsp lemon juice
Salt & Pepper to taste
Chopped chives or scallions (optional)In a blender or food processor, place the peeled garlic cloves and about a tablespoon of olive oil and puree. Add the egg yolks and mustard and process, when incorporated, keep the mixer running and slowly drizzle in the olive oil until the mixture starts to thicken and starts looking like mayonnaise. Before you use up all the oil, add the lemon juice and season with salt and pepper. Blend some more to thicken and add more olive oil as necessary. Adjust seasonings and serve topped with chopped chives or scallions.
Aioli is also a great dip or sauce for vegetables. It doesn't keep as long as commercial mayonnaise, so plan on using it up in a couple of days if you can.