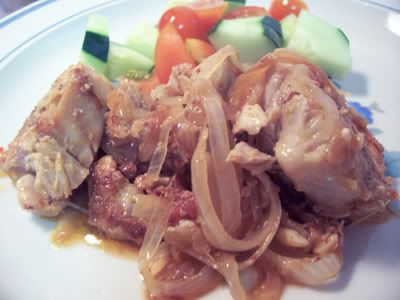 Often when I am being unimaginative, I always turn to old favorites and standbys. Guess what, most of them are the types that are quick and easy to make! So is it any wonder that we fall back again on Chicken Bistek on a day when we just did not feel like cooking anything elaborate but still needed to eat something filling anyway? When we first made
Chicken Bistek
, which is a variation from the
Filipino Beef Steak
, we used chicken breasts and found them a little too dry. so for this version, we decided to use chicken thighs which have become a regular in my freezer ever since Costco started selling the boneless, skinless variety in convenient one serving packs.
INGREDIENTS:
5-10 boneless, skinless chicken thighs (depending on how many people you are cooking for)
2 cloves garlic, chopped
2 teaspoons kosher salt
1/2 teaspoon black pepper
3 Tablespoons white vinegar
2 large onions, sliced
Oil
Marinade the chicken thighs in garlic, salt, pepper and vinegar for at least 30 minutes before cooking. In a skillet that is big enough to hold all the chicken pieces, heat about 2 tablespoons of oil and place the chicken in to brown on both sides. Reserve the marinating liquid. When the pieces are browned, add the onions and the marinating liquid and cover. Let it cook until almost all the liquids have evaporated. Stir through, and serve.