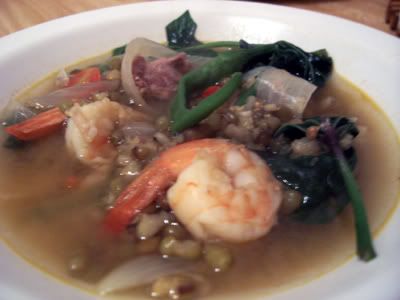 This is another dish where there are as many variations as there are regions in the Philippines. Some prefer it thick some like it soupy. Some like to put different types of vegetables with it. Me, I happen to like mine on the soupy side and I like it best with bittermelon (ampalaya) leaves. I had a couple of bittermelon plants come up in our garden this year, one was scrawny but the other one was lush and full of big pretty leaves. I just had to make this soup to use some of the leaves before the frost beats me to it.
INGREDIENTS:
1 cup dried whole mung beans or mungo beans
1 Tablespoon oil
4-6 cups chicken broth or water
3 cloves garlic, chopped
1 small onion, sliced
1 Tablespoon fresh Ginger, chopped
1 cup tomatoes, chopped
1 pork chop, cut into small cubes
approx. 4 oz. peeled shrimps (I used medium sized, frozen)
Bittermelon leaves (as much or as little as you would like – I used about two cups uncooked)
Fish Sauce, to taste
First wash the mung beans as you would any dried beans and remove any beans that float and anything else that floats up. Drain and pour into double the amount of boiling water. This means for every portion of beans, put twice as much water to boil. In this case, since I am only cooking a cup of beans, I boiled two cups of water and dropped in the beans. Let boil for a few minutes until the beans are soft and some of the water has evaporated. Turn the heat down to low and let the beans simmer until almost all the water has evaporated and it is well cooked. If it is still hard, just add a bit more water and cook longer.
In the meantime, while the beans are cooking, prep the rest of the ingredients. When all is in place, heat up about a tablespoon of oil in a pot and saute' the garlic, ginger and onions until fragrant. Add the pork and tomatoes and saute' a little longer, until it starts to dry up and sizzle again. Add a tablespoon of fish sauce, stir in the cooked mung beans, and add four cups of broth or water. Bring to a boil and turn the heat down to simmer for about twenty minutes for the flavors to infuse. When the soup is almost ready, taste and adjust the seasoning. Add the shrimps and the bittermelon and let it cook for another five minutes or so, just until the shrimp cooks through and the bittermelon leaves wilt. Turn off the heat, and serve.
This will probably serve only two. I made a small batch since I am the only one who likes mung bean soup in our house. Especially so when it has bitter melon leaves, which is what makes this dish for me. So this one is for the secret pot too.