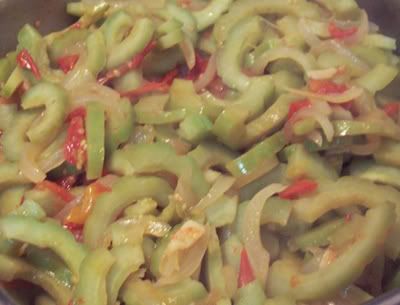 I still have a bunch of bitter melons in the fridge and I don't want to freeze them as I just don't think frozen bitter melon tastes good so I have been eating bittermelon once or twice a week.
If you don't know what bitter melon is, Momordica charantia is a tropical plant common in Southeast Asia. In the Philippines, it is called Ampalaya or Parya. Its bitter taste takes some getting used to. I love it. But then again, this is one dish that only I eat at our house. Husband has learned to eat it and will eat some with me. But the girls, I'm still working on them.

This dish is the simplest way of preparing this vegetable.
INGREDIENTS:
2-3 bittermelons, cut in half, de-seed, and slice
1 small onion, sliced
2 cloves garlic, chopped
1 cup cherry tomatoes, quartered
2 Tablespoons Oyster Sauce
1 Tablespoon Oil
Heat the oil and saute' the onions and garlic for a couple of minutes until fragrant. Add the tomatoes and let is cook down a few more minutes. Add the bittermelon and oyster sauce, stir through, cover and cook for three minutes. Remove from heat and serve.
Some people say that you can decrease the bitterness by rubbing the cut bitter melon in coarse salt then rinsing the salt off, but I happen to like the bitterness so i don't do this. I also try not to over cook it as I like a little bite left. You can cook this to your preferred done-ness.
Here are other ways I've cooked bittermelon:
Stuffed Ampalaya
Bitter Melon with Eggs
Pinakbet – a Filipino vegetable stew
The leaves from the bitter melon plant can also be used in Mung Bean Soup.