My husband has always raved about his Aunt's Caramel Cake, but we've never gotten the recipe out of her. Yeah, she's one of those cooks…her caramel cake will end with her. Too bad. Anyway, this is my attempt, and it came out pretty close, he says. I think it was a little on the sweet side. I'll have to think of a way to make the frosting have more of a caramel flavor and not so sweet but still have it be light and creamy.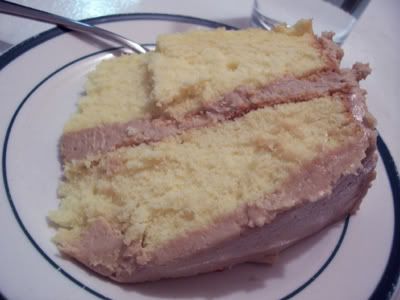 This recipe, I found on an old issue of Southern Living magazine (sorry, I don't have the exact issue).
1 ½ cups Sugar
½ cup Butter, room temperature
2 Eggs
1 cup cold water
1 ¼ cups Flour
1 Tbsp. Baking Powder
½ teaspoon Salt
1/3 cup Caramel Syrup (recipe follows)Cream sugar and butter in a mixing bowl. Add eggs, one at a time, beating after each addition. Add water and mix well. In a separate bowl, sift together the flour, baking powder and salt. Add the flour mixture to the first bowl of creamed ingredients and beat until batter is smooth and well blended. Beat in the caramel syrup.Divide cake batter between two greased 9-inch round cake pans. Bake at 325° F until toothpick inserted in center of cake comes out clean, about 40-45 minutes. Cool cakes in pans about 10 minutes. Turn out onto racks to cool completeley.CARAMEL SYRUP
1 cup hot water
1 cup brown sugar
Melt sugar over medium/high heat until sugar melts but not burnt. Add the water one Tablespoon at a time while stirring mixture. After the hissing and sputtering stops, add the remaining water. Return pan over medium heat and cook until syrup forms, about one or two minutes. Pour into jar and use as needed. Left over syrup can be stored in the refrigerator.
CARAMEL FROSTING
½ cup Unsalted Butter (one stick)
1 cup packed Dark Brown Sugar
¼ cup Milk
2 cups sifted Confectioner's Sugar
Melt butter and brown sugar in saucepan over low heat. Stir until blended. Add milk and bring to a boil, stirring continuously to dissolve sugar and blend. Remove from heat and cool. Pour the mixture in a mixer bowl and slowly beat in the confectioner's sugar until the frosting is smooth.
Frost the cooled cake layers.