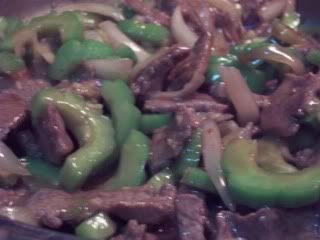 I had one bittermelon plant come in our garden this summer. One! Out of a whole pack. But, it was ok. I'll stop whining about it now because if I had more than one, I'd have bittermelon coming out of my ears. As it was, I've had bittermelon every kind of ways and by the end of the summer, as much as I love bittermelon, I was frankly getting tired of it. The last two fruits, I didn't even bother getting off the vine, I just left them there to go to seed.
Anyway, this is one of my last bittermelon variations.

INGREDIENTS:
½ lb. Beef (loin tri-tip steak), sliced thinly against the grain
3 cloves Garlic, chopped
1 large Onion
1 tsp. Ginger, minced
3 Tbsp. Oyster Sauce
1 tsp. Cornstarch
1/4 cup Water
2 Bittermelons, seeded and sliced
1 chili pepper, sliced
2 Tbsp. Oil (+1 Tbsp. as needed)
Stir the cornstarch into 1/4 cup of water until dissolved and set aside. Heat a skillet or wok and add 2 tablespoons of oil. Add the beef and stir fry in high heat until it changes color. Remove beef from the wok and set aside. If there in not enough oil left in the pan, you can add another tablespoon. Stir fry the garlic, ginger and onions until fragrant. Add the bittermelon and oyster sauce and stir fry for a minute or two. Add the stirfried beef back and stir. Add the peppers and the cornstarch mixture, stir and let cook for another couple of minutes. Adjust the seasoning, add more oyster sauce or salt if necessary, and remove from the heat. Serve with lots of steamed rice.