Cooked From the Heart » announcements, Lasang Pinoy » Lasang Pinoy 22: Rice to the Challenge!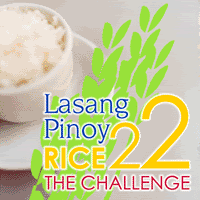 Lasang Pinoy is a monthly blogging event that promotes Filipino cuisine and I am honored to host this month's event. The theme I have chosen is RICE! We have gone through 21 months of Lasang Pinoy and we've covered a spectrum of Filipino dishes. Every one of those dishes, if you notice, always paired well with rice. See if you can count how many recipes end with 'serve over rice' or 'serve with lots of steamed rice'. I lost count. Rice is a huge part of Filipino cuisine
So I thought isn't it time to highlight rice? Rice is woven so tightly into the Filipino palate that it is often taken for granted. It is simply assumed that you will have rice with your meal. It is never the center of the meal like the main dish, but for a Filipino, no meal would be complete without it. Without rice, you'll have one hungry Filipino feeling a little short changed
We eat rice three times a day. I should say I can eat rice three times a day; for breakfast, lunch, dinner, and even in-between snacks and dessert. Carb free diet? Nah, that will never work on me. So if you have a rice dish to share, I will surely be trying it out if I haven't already
With the holidays coming up, whether you are in the Philippines or abroad, I am sure you have some kind of a rice dish in your menu. If not, we challenge you to try out a different rice dish than what you're used to
To participate in this round, just post a rice recipe on your blog and drop me a note when you have your entry up by dropping a comment here or email me at jmomblogs[AT]gmail[DOT]com. The deadline for submitting your entries is December 31, 2007. I plan on having the round up soon after the New Year and before the announcement of the next round of LP. If you don't have a blog and have a recipe to share, just contact me and I can post your entries here.
You can use the beautiful icon, designed by Mike Mina of Lafang, to highlight your entry if you wish. Please help spread the word of this event on your blog by announcing the theme for this month.

Filed under: announcements, Lasang Pinoy