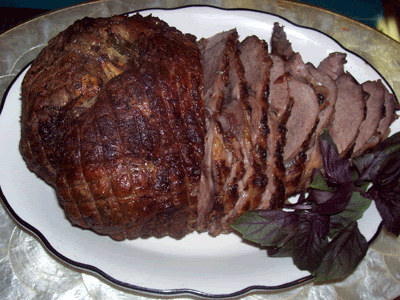 We eat so much chicken that some days we just can't stand even the thought of chicken! So enter lamb. Costco has started selling these boneless lamb legs for a very reasonable price so we decided to get one for a change.I actually cooked this towards the end of the summer when we still have lots of herbs from the garden, so it was deliciously infused with aromatic goodness. However, if you would like to try making this for Christmas or New Year, I don't see any reason why you couldn't substitute dried herbs instead.
INGREDIENTS
1 leg of lamb, deboned
Marinade:
2 lemons (zest one, juice both)
2 sprigs fresh rosemary, chopped
½ cup of Basil, chopped
1 head of garlic, chopped
½ cup of Olive Oil
3 teaspoon Kosher Salt
1 teaspoon Crushed Black Pepper
Mix lemon juice and olive oil and set aside. In a separate bowl mix together the lemon zest, rosemary, basil and garlic along with the salt and pepper.
The lamb we get in Costco is packaged in an elastic netting that holds it all together since it is deboned. I slip off the netting without cutting it and open up the butterflied leg of lamb. Rub half of the herb mixture inside the lamb and the reserve the rest for the outside. You can also drizzle some of the lemon and olive oil mixture just to get all the flavors into the meat. Carefully slip the netting back over the leg then rub the rest of the herb mixture on the outside. Place the roast in a large plastic bag or container and pour the rest of the lemon and olive oil over the roast. Let it marinate at least four hours or overnight.
You can either roast this on the grill or in the oven. I roasted this one in the oven and used the same method as the roast pork (lechon). Pre-heat the oven to 400°F. Place the lamb in a roasting pan and pour the marinade over the meat and put in the oven. Bake at 400° for thirty minutes, then turn the temperature down to 325°F until the internal temperature reaches 145°. For the size roast that I had, which I think is 4-5 pounds, it took about 2½ hours. Let it rest for 15 minutes before carving.
Lamb is really best when it is not overcooked, but what with three girls who won't eat 'pink' meat, it is great that by the way this leg is shaped, one end is slightly thinner than the other so that that end cooked to 'well-done' while the other end is still 'medium' towards the center. For the lamb to come out this way, I put the meat thermometer on the smaller end and let the internal temperature to rise to 145°F. They get the well cooked end and hubby and I got the slightly rare end.
The leftover was great in sandwiches!