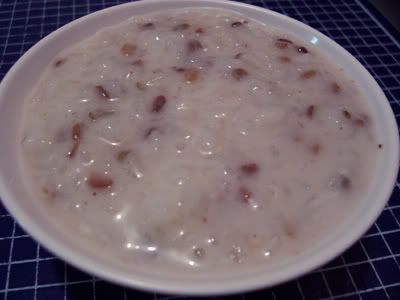 I have been wanting to try out this dish ever since the
English Patis
posted the recipe on her website and then put the photo of it on her header, reminding me to make it every time I visited her food blog. This dish, in the Philippines, is called Ginataang Totong or Totong Balatong. Ginataan means it is cooked with coconut milk.My husband loves rice, but sometimes he looks at me aghast how I can eat rice three meals a day, for snacks and also for dessert. I love sweet rice! What can I say. And there is something about the pairing of rice and coconut milk that is just sublime.
So after making Mung Bean Soup not too long ago, I still had some mung (mongo) beans left so one chilly evening, in need of comfort, I decided to make this dessert. This is my entry for Lasang Pinoy 22 – Rice to the Challenge.

This recipe was based on CeliaK's Ginataang Totong:
1/2 cup Mung beans (mongo), toasted and split
2 cup Sweet Rice (malagkit), cooked
2 cups of Coconut Milk
3/4 cup Sugar or to taste
Water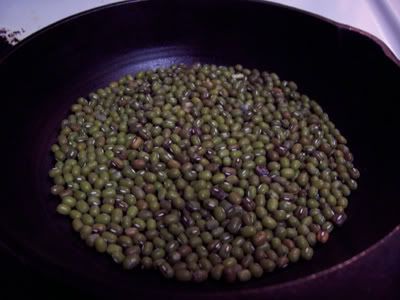 Because I didn't read the recipe first, I went ahead and cooked the sweet rice the usual way with a dash of salt and 1 cup of water for every cup of rice. I then toasted the mung beans until the outside started to brown, then lightly cracked them in a mortar & pestle to loosen the skin and crack the beans in half.
The Clone, my youngest daughter, had fun taking a sieve full of mung beans outside to blow out the loose skin. She actually started inside the house but over the sink and was still making a mess, so we sent her on out. It wasn't that cold.
So when she came back in with the mung beans, we put all the ingredients in a pot and started stirring it over a medium flame. We cooked it until the beans were cooked thoroughly but still had a bite to it. It took about thirty minutes. If the mixture starts to thicken too much, you can add more water. Cook longer if it's too watery or not cooked enough. A great part of cooking this dessert is by feel and taste. Some prefer to have a very sweet mixture, I happen to like it a little under sweet so I started with half a cup of sugar and slowly added more according to my taste.
Traditionally, a sweet dessert like this would be served as an afternoon snack, but I can eat this anytime!