I grew up eating these and yet and I never really saw anyone make it. Most times my mom or one of our aunts would buy it for our snack from hawkers who come through the neighborhoods shouting, "pooooto, kutsinta" as they walk down the streets. We'd start running after the guy and tell him to make sure to stop at our house. This is a steamed rice cake that is typically and best served with freshly grated coconut.This is still a work in progress but I'm quite happy with how this came out.
I started searching online and kept running into the same recipe adapted from The Food of the Philippines
by Reynaldo Alejandro. I first found the recipe on a website which claimed to have Philippine dessert recipes with photos. It was quite an informative site, and they even have one of my photos! I just wish they would have asked before using it on their site. Oh well…. on to the recipe.
I started mixing according to the directions but the batter seemed 'not right'. So I went back online and found Mang Ken's note about using your coconut, and that seemed to fix the problem.

I think the crucial ingredient in this recipe is the lye water. I wasn't sure at first what this ingredient did, well I'm still not sure entirely, but I think it is what gives it it's unique scent and texture.
So using my coconut, here are the proportions I used to get this result.
INGREDIENTS:
2 ½ cups Rice Flour (I used Mochico brand because it is what I had in the pantry)
2 cups Brown Sugar
3 cups Water
1 teaspoon lye water (potassium carbonate solution)
Freshly Grated Coconut (I used a very good frozen coconut brand found in my local grocery store – the same kind used in Southern Coconut Cakes)
Stir all the ingredients except for the grated coconuts together and mix well. I used mini muffin tins filled almost full. Steam for 30 minutes until the cakes are firm. Repeat the process until all the batter is used. Mix the batter well each time before pouring into the tins.
Notes: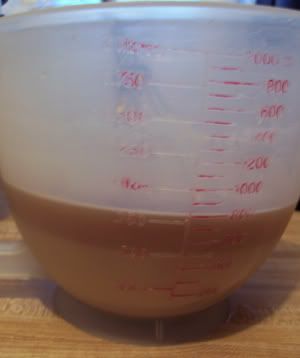 After following the recipe as it is first written, even though it seemed a bit runny to me, I went ahead and steamed a batch anyway to test. Rightly so, after 30 minutes of steaming, the first batch was soft and jiggly, like unset jello. It was also cloyingly sweet. I almost aborted the recipe at this point because it was so much sweeter than I was used to. When I looked at the remaining batter, it had separated as in the photo. So I decided to follow Manong Ken's advice and my instinct and decided to add more rice flour to thicken the batter. The original recipe only called for one cup. I added another cup and a half until I had a batter resembling that of a loose pancake batter or crepe batter. The texture improved tremendously and the sweetness was reduced to the level that I remember. I think next time I will still cut half a cup from the recipe though.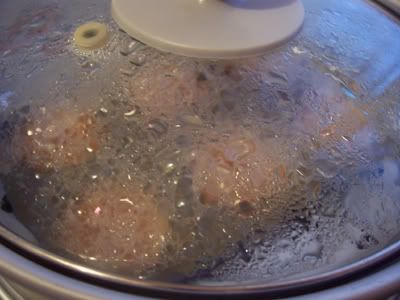 Another thing learned: these don't rise too much so I was able to fill the tins almost full. They generate quite a bit of bubbling as they cook and the liquids in the batter cook out so try not to fill the tins all the way to the edge otherwise you'd end up with some of the sticky batter overflow on top of your pan and get in your steaming water.
I think next time I will use a slightly deeper muffin tin. The same ones I used for the puto recipe which is coming up next.