When I first started brainstorming about what to make for LP 22, I thought of trying my hand at making Tapey, a rice wine common during the holiday season in my mom's hometown. It requires a yeast called bubud, to encourage fermentation, that I was determined to search for. But, holiday preparations got in the way and I resigned to try my hand at something simpler instead; this puto and kutsinta combination. Little did I know the process was not as simple as I thought to get the results I wanted!
At least for the kutsinta I was partially successful and can foresee future tweaks to improve on it. My attempts at puto, however, leaves a lot to be desired. I wish I could have read Stef's puto experiment, her entry for LP 22, at the onset. It had all the information I was looking for. She even found a source for the elusive bubud for the rice wine which I will be sure to look into for future experiments.

My attempt at puto making is quite elementary compared to Stef's thesis level experimentation but here they are nonetheless. These are the versions I've seen here at Filipino parties. The versions close to the authentic puto I remember from my childhood, we have only been able to sample a close facsimile at Chinese bakeries. I think with Stef's experimentation, I will come closer to the real thing.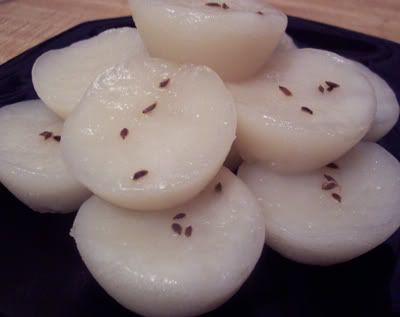 I started out my experimentation with a recipe I found online from Asiarecipe.com/phildesserts.html, same place where I found the Kutsinta recipe.
PUTO – version 1
INGREDIENTS:
2 cups Rice Flour
½ teaspoon Salt
3 teaspoons Baking Powder
2 cups Coconut Milk
1 cup white (granulated) Sugar
1 teaspoon Anise Seeds (optional)
1 cup grated Coconut
Sift rice flour, salt and sugar together. With a whisk, slowly blend in the coconut milk until you have a smooth batter. This should be the consistency of pancake batter. Pour batter into greased small muffin tins and steam for 30 minutes or until a toothpick inserted into the cake comes out clean. Instead of mixing in the anise seeds as suggested in the recipe, I chose to just sprinkle them on top. Serve with grated coconuts.
NOTE:A good rice cake, it was dense and flavorful. But, as my resident taste testers said, "it's like a white version of the kutsinta". It's true. It was dense, chewy and sweet with a slight salty undertone. I think the salt can be cut down by half next time. The thing that this version was missing are the holes. The puto that we like has that chewiness from rice cakes but it is also pockmarked with holes, much like a sponge cake. This version, alas, had no holes.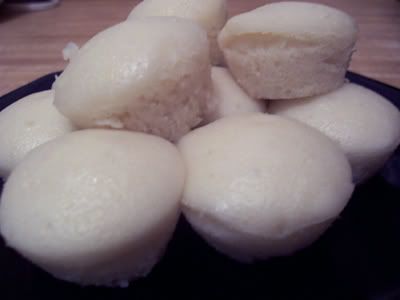 In search of the 'holes' we decided to experiment with another puto recipe that I had printed out sometime ago and saved in my collection of 'to-try' recipes. Unfortunately, the website that I had printed this second recipe from, a compuserve homepage, is no longer online. I think this is the 'puto muffin' that I see at most Filipino potlucks.

PUTO – version 2
INGREDIENTS:
½ cup All-Purpose Flour
½ cup Rice Flour
2 teaspoons Baking Powder
1/4 teaspoon Salt
1 Egg White, beaten
¾ Coconut Milk
¼ cup Sugar
1 Tablespoon Vegetable Oil
Mix all the ingredients in a bowl until the batter is smooth. Pour into greased muffin tins ⅔ full and steam for about 15 minutes until cakes spring back or until a toothpick inserted in the center comes out clean. Serve with grated coconuts.
NOTE: According to my resident taste testers again, 'this tastes like steamed corn muffins'. It was a bit cakey. I probably could have frosted it and no one would be able to tell the difference from a regular cake muffin. It had holes though.
So I guess my quest for the perfect puto recipe is still ongoing. I will try to replicate Stef's experiment next and see if that is the holy holey version we are looking for.