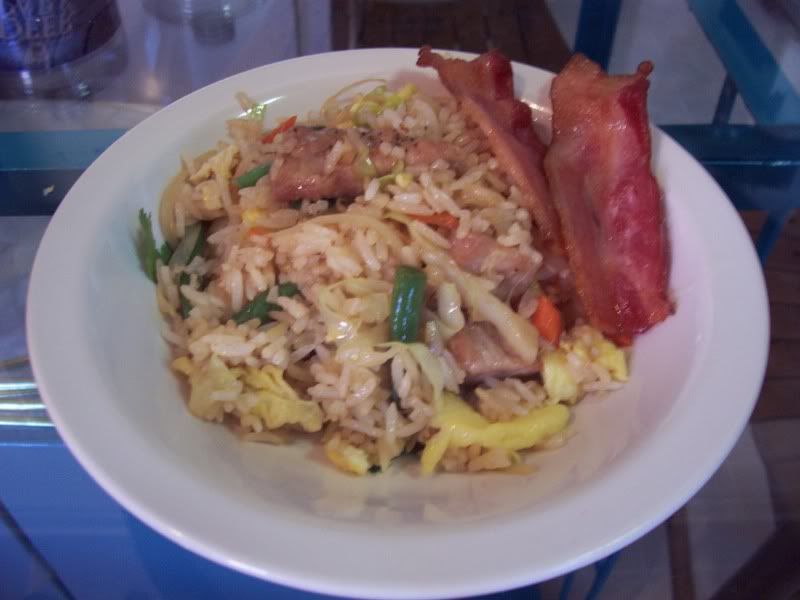 Have you had enough rice yet? Not us! This is a dish Jade cooked all by herself from beginning to end.
INGREDIENTS:
Day-old (cold) rice
3 Eggs
Salt & Pepper
Oil
1/2 Onion, sliced
2 cloves garlic, chopped
1/4 inch ginger, minced
1/4 lb. pork loin, cut into bite sized pieces
1/2 cup Green beans, cut into half inch length
1 small carrot, diced
2 Tbsp. Oyster Oil
2 Tbsp. Soy Sauce
1/4 cup Cilantro, chopped
1 cup Cabbage, chopped
1)Heat tbsp. of oil in wok on medium heat
2)Scramble eggs with a tsp. of salt until frothy. Pour over hot oil in wok and stir. Cook until all egg is set. Remove from heat and set aside.
3)Add onion, garlic and ginger to heat and stir fry until onions are translucent. Remove from wok and set aside.
4)Add more oil. Season pork with salt, pepper and garlic powder. Then add to heat. Cook 3-4 minutes until golden brown and cooked through. Stir in some oyster sauce to taste and remove from pan and set aside.
5)Swirl the oil around to coat the sides. Add beans, carrots, cabbage and the cooked onion, garlic and ginger to the wok with more oyster sauce if desired. Cook for a minute, stirring.
6)Break up rice with a fork, then pour over vegetables, mix well.
7)Add meat and stir more. Slice egg and add to rice, mix gently. Season with more oyster sauce and/or soy sauce. Garnish with cilantro.
8)Serve in bowls with bacon and add spice with red chili paste.
~ cooked by Jade