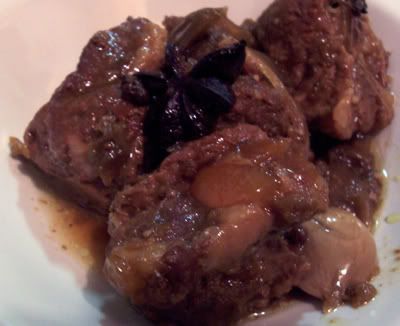 Lorraine of Super Sarap is the host of this month's
Lasang Pinoy
event,
Crockpot Cooking
. What I wanted to try cooking in a crockpot is Humba which I have seen recipes of in several food blogs. Specifically, from
The Pilgrim's Pots and Pans
. However, when it came time to cook and I started looking in the pantry for ingredients, I found myself pulling ingredients that were totally unrelated to what I had intended to cook! Well, not totally unrelated. I think what I came up with has a different flavor but the intent could be considered similar to humba. This is an adaptation of Karen's
Humba recipe
.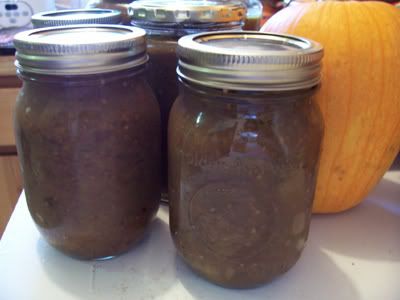 At the end of summer last year, I made some green tomato chutney or chow-chow as it is commonly called here in the South (recipe will be posted soon). It is basically a green tomato relish. It even looks like the relish that you buy at the grocery store. We haven't even finished a jar yet, so I decided I should make something using this ingredient just to use them up. I used this to replace the vinegar and tahure called for in the original recipe.I also had some rib ends that I cut off from some spare ribs that we barbecued in the oven (Recipe for that will also follow soon) so I decided to braise some the ends instead of waiting until I could get some pork belly.So here is my entry for this round of Lasang Pinoy:
2 lbs. spare rib ends (trimmed from the bottom edge of 2 racks of spare ribs)
2 cups or 1 pint jar of Green Tomato Relish (Chow-chow)
6 cloves Garlic, peeled and left whole
1 medium Onion, sliced
1 Bay Leaf
1 Star Anise
5 whole Cloves
1 Cinnamon Stick
1 tablespoon Szechuan Peppercorns
3 tablespoons Soy Sauce
Place all the ingredients in a slow cooker or Crockpot and cook on high for 4 hours. If you are going to be gone all day, put it on medium setting and cook for 8 hours. By the time you get home, just dish some up on top of a mound of rice and enjoy!
Because the tomato chutney is sweet, spicy and tangy, that is just the taste that you get with this braised dish. The sauce gets reduced, the flavors concentrate and blend with the other ingredients, and you end up with something utterly delicious without slaving in the kitchen all day!
Thanks to Lorraine of Super Sarap for hosting this round of Lasang Pinoy.