We bought some delicious craisins (sweetened dried cranberries) from Costco for recipes we tested over the holidays and we've gotten addicted to them. The girls, who hate raisins, have actually gotten used to snacking on craisins which is non-fat and that is always a good thing! We were planning on making bread one day when The Clone suggested adding craisins. It was an inspired suggestion!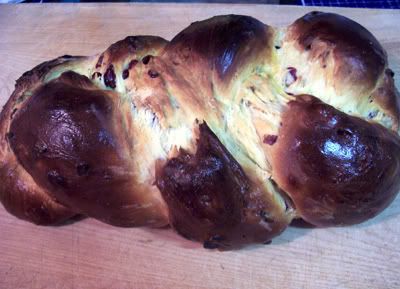 PROOF:
(Put the following ingredients in a small bowl or cup, with a bit of room to expand, to proof. Proofing is a means to test that the yeast you are using is 'alive' or working.)
1 cup warm water, about 90-110 degrees F (I used the hotest water I can get out of the tap)
1 teaspoon of sugar (this feeds the yeast making it go to 'work' faster)
1 0.25 oz pack of Dry YeastLet the ingredients proof by letting it sit for at least 10 minutes or until it develops a 'head' or foam on top of it similar to what you get when you pour beer or soda. When it has a foamy top, it's ready to use. That means your yeast is ALIVE!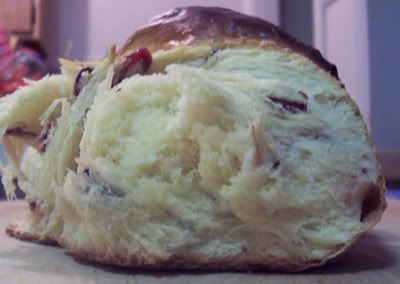 YOUR BREAD DOUGH:
4 cups All-Purpose Flour, plus a cup or so for kneading
1/3 cup Honey
1 Large Eggs (put the whole egg in including whites)
3 Egg Yolks (only – separate them from the whites)
3 Tablespoons Extra Virgin Olive Oil
1 Tablespoon Kosher Salt
¾ – 1 cup Craisins
1 egg, scrambled (for brushing the top of the bread with)
Put a cup of flour in a mixing bowl and mix in the honey, eggs, olive oil and salt. Stir until they are mixed well. Now add the yeast mixture, remaining 3 cups of flour and craisins and mix until it all comes together into a soft dough. It will still be a little moist. Using the cup of flour you've set aside for kneading, sprinkle some of it on the surface that you're going to do your kneading on (you can use a bread board or your clean counter top) and roll your dough out of the mixing bowl onto the board. Knead the dough for 10 minutes, adding more flour as necessary to keep your dough from sticking. When you have a smooth, well kneaded dough, place it in an oiled bowl, cover with a clean cloth and set it aside someplace warm and draft free until it has doubled in size. This will probably take 1.5 to 2 hours.
When your dough has doubled, place it back on the kneading surface/board and knead for another minute and return to a greased bowl. Cover and let rise for one more hour.
After the second rising, repeat the process of kneading it again for another minute. You are now ready to form it in whatever shape you'd like. If you want a loaf, pat your dough into a greased loaf pan. If you'd like to try a braid like we did, divide your dough into three equal parts and roll them into 'ropes' about an inch thick. On a greased cookie sheet, take the three ends and pinch them together, then braid the rest until you get to the opposite ends and pinch that end together and tuck it under your braid. Cover your dough with a clean cloth again and let it rise another hour.
When your dough has plumped up again, you are ready to bake it. Finally! Pre-heat your oven to 375 degrees F. If you like your bread to have a shiny surface, brush the dough's surface with the beaten egg before placing in the oven. Bake for 35 minutes, and enjoy!
My little heathens couldn't wait for me to slice it after it came out of the oven. They started tearing pieces from it right away that's why it looks so uneven.