My girls think that my mom's barbecued spareribs are the greatest, but I think this came pretty close especially since it's been a while since we've fired up the grill and hadn't had ribs since last summer. It's still too cold to be messing with the grill so these were dry rubbed and baked in the oven. They turned out tender and juicy and very flavorful. The only thing missing was the smokiness; but they must have been pretty good. These were eaten up pretty fast.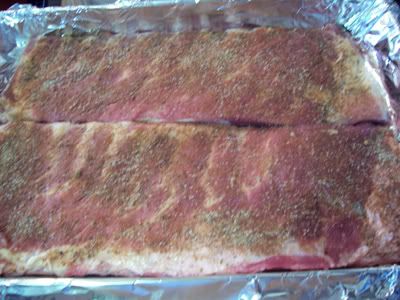 First thing to do is to prepare your ribs. I used to just rinse them and cook 'em, but this time around I decided to trim the ends off so I can use it for
the braised dish
I was planning on cooking. While I was cutting the ends off, I also decided to pull off the membrane on the back, the one covering the ribs. I think this made a huge difference in producing a tender and finger licking ribs.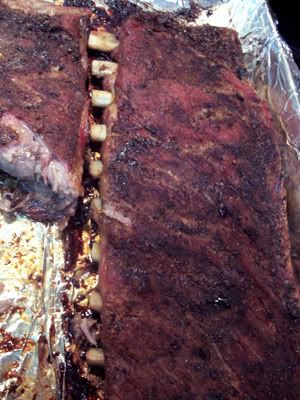 After preparing the ribs, pat them dry them with a paper towel and place them on a baking sheet. In a bowl, mix the following for the dry rub:
4 Tablespoons Kosher Salt
1 Tablespoon Garlic Powder
1 Tablespoon Onion Powder
1 Tablespoon Paprika
1 Tablespoon Dried Red Pepper Flakes
1 teaspoon black pepper
1 teaspoon ground oreganoMix all the spices together and rub all over the ribs, front and back. You can set this in the refrigerator for a couple hours to overnight to let the flavors seep in.
Bake uncovered in a 300 degrees F oven for four hours or until they are tender. If they start browning or drying out too fast, you can cover loosely with foil.