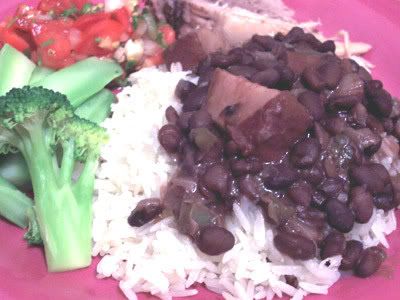 These beans can be a meal in itself, but it could also be a great side dish as in this case. We paired it up this time around with
roasted pork
and
tomato salsa
.
INGREDIENTS:
4 cups Cooked Black Beans
2 oz. cured side pork
2 whole cloves of garlic
1 onion, chopped
1/2 of a large bell pepper, chopped
2 cups water
additional salt to taste if necessary.
Cut the side of pork into 1 inch cubes, place in a pot, cover with water and bring to a boil. Drain the water out of the pot to get rid of some of the saltiness of the pork. Add a cup of water and bring it back to a boil. Let the the pork simmer until it is tender and the water has cooked away and fat is starting to be rendered from the pork. Add the whole garlic cloves and onions and saute' until fragrant and the onions are slightly softened and translucent. Add the bell peppers and cook for an additional two minutes, stirring occasionally. Add two cups of water and bring to a boil. Add the cooked black beans, lower the heat and simmer until the flavors are blended and the liquid has thickened slightly, about 30 minutes to 1 hour.