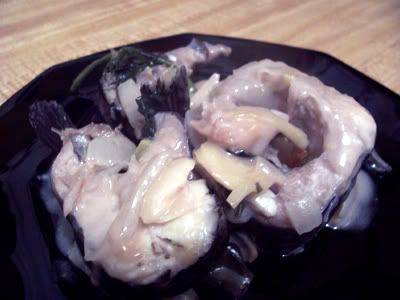 My apologies to
Kai
for the late posting. The past few weeks have just been too hectic and hadn't had much time to cook. I really meant to cook something sweet for this month's
Lasang Pinoy
challenge, but I ran out of time and decided to just look through my recipes on the 'wait-to-post' list with coconut as an ingredient. It wasn't hard to do, I love coconut so there is always a recipe or two with coconuts in it.This recipe was destined for the
'secret pot'
, those that no one else in my house would eat but me. I loved it, but I had to enjoy it alone and that is never fun.
INGREDIENTS:
1 small catfish, cleaned and cut into four pieces
2 cloves of garlic, chopped
1 small onion, sliced
about 1/2 inch of ginger, peeled and sliced
1 cup of coconut milk
1 teaspoon kosher salt
Dash of black pepper
Place all the ingredients in a pot and simmer until sauce has been reduced by half and has thickened slightly. Serve with lots of rice. 🙂 Hopefully shared with someone unlike me.
Here are some other coconut infused dishes I've cooked in the past.