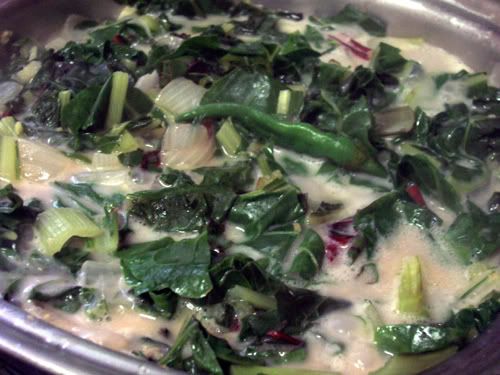 This is not the first time I've cooked vegetables in coconut milk. I just love this combination, especially with greens that can withstand a slightly longer cooking time. That's because for this dish to taste 'just right', it has to be cooked until most of the liquids have evaporated and only the flavors remain. This is my second entry for this month's
Lasang Pinoy
,
Coco Loco by Kai
.
INGREDIENTS:
2 lbs of Swiss Chard, washed & chopped in 1 inch lengths
Several hot chili peppers (depending on how spicy you'd like it)
1 tablespoon oil
2 cloves garlic, chopped
1 large onion, chopped
2 cups coconut milk
Salt & Pepper to tasteIn a pot, heat the oil and saute' the garlic and onions until fragrant. Add the rest of the ingredients and simmer until it looks like the photo below. The coconut and other liquids should almost be cooked away but not dried out.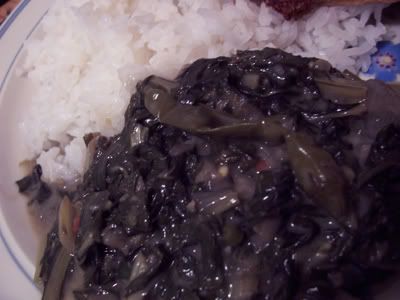 Here's a couple more veggies cooked in coconuts:
Gising-Gising
(green beans in coconut)
Collards & Beet Greens in Coconut Milk
and here's more dishes cooked with coconut.