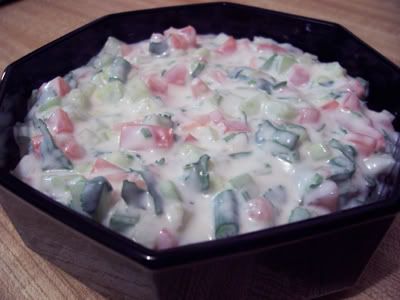 I made a great Indian Food dinner last weekend, if I do say so myself. I made a very strong, pungent and delicious curry and this yogurt condiment was perfect to cool it down with. The recipes and meal combination were from the
All Around the World Cookbook by Sheila Lukins
. Asi, my oldest daughter loved the cucumbers and tomatoes; she said it had a very refreshing taste. I loved the layers of flavors in this and the other dishes in the meal. Recipes for the curry and rice will follow.
INGREDIENTS
2 teaspoons Vegetable Oil
1½ teaspoons fresh Ginger, minced
½ teaspoon ground Cumin
In a small skillet, place all the ingredients above and cook over low heat for a minute, stirring constantly. Place this mixture in a mixing bowl and let it cool while you prepare the rest of the ingredients.
2 ripe Plum Tomatoes, seeded and diced
1 cup English Cucumber, peeled and diced
4 Scallions (green/spring onions), thinly sliced
1 small Clove Garlic, minced
1½ cups plain nonfat yogurt
Dash of Tabasco sauce
Salt, to tast
¼ cup fresh Cilantro, chopped
Add all the ingredients above to the oil in the mixing bowl and mix well. Cover and refrigerate for at least an hour to blend the flavors.
The cookbook cautions not refrigerating it for longer than 3 hours, but we had a little left the next day and it was still delicious! I think next time I make it, I may let the cucumber and tomatoes sit in a colander to drain while preparing the other ingredients so that it won't be as watery.