My family loves their steamed rice and hate raisins. So when they say that this is one of the best rice dishes they've ever had, you better believe it!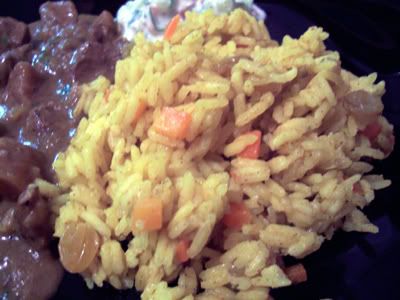 You can see a peek of the Indian dinner we had last week. This dish is not only pretty to look at, it was aromatic and delicious as well. This was a perfect compliment to the spicy curry. The sweetness of the raisins is a perfect counter for any spicy dish. We'll definitely be cooking this rice again.The recipe for this was also from the
All Around the World Cookbook by Sheila Lukins
but I altered it a little to suit the ingredients I had.
INGREDIENTS
3 cups Jasmin rice
3½ cups water + 2 teaspoons chicken flavoring (you can use chicken broth instead, but I had used all the chicken broth I had for the curry)
1 carrot, peeled and cut in small cubes
5 whole Cloves
1/2 teaspoon ground Cardamom
1 teaspoon Cinnamon
1½ teaspoons Turmeric
1 cup Golden Raisins
½ cup Coconut Milk
1 teaspoon SaltWash and rinse the Jasmin Rice and drain. In a pot large enough to cook 3 cups of rice, place the water with chicken flavor, the carrots, cinnamon, turmeric, cardamom, cloves and salt and bring to a boil. Add the rice, cover and let it simmer for 10 minutes. Do not open the pot (you'll let the steam out), turn the heat down to low and cook for another 20 minutes on low heat. After twenty minutes cooking, open the pot, stir the rice to fluff it up and add the raisins and coconut milk. Stir through, cover and cook for another 15 minutes on low heat. Turn off the heat without opening the pot and let sit until you are ready to serve. Just before serving, fluff up the rice again.