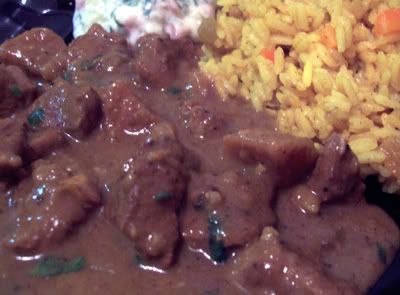 Finally, here is the highlight of the Indian dinner, the lamb curry! Every time I go into Costco's meat department, the lamb just keeps calling my name and I can't go by without stopping to contemplate the things I could do with lamb. Lamb curry is my favorite thing to order at the Indian restaurant so it has been on the top of my list of 'ways with lamb'.This recipe was also from the
All Around the World Cookbook by Sheila Lukins
.
INGREDIENTS
¼ cup Olive Oil
3½ Lamb shoulder or Leg, cut into 1 inch cubes
2 large Onions, chopped
6 cloves Garlic, chopped
1 piece (1 inch) fresh Ginger, peeled and minced
2 Granny Smith Apples, cored and cut into ½ inch cubes
2 Plantain Bananas, sliced into ½ inch cubes
5 Tablespoons all-purpose Flour
½ cup Curry Powder
2 teaspoons ground Nutmeg
1 teaspoon ground Cardamom
1 teaspoon salt
2 Cinnamon sticks (each 3 inches long)
5 cups Chicken Broth
½ cup Coconut Milk
½ cup fresh Cilantro Leaves, chopped

Heat the oil in a large heavy pot over medium high heat. Brown the lamb cubes in the hot oil in batches. Remove to a bowl and set aside.

To the oil remaining from the lamb, add the onions, garlic, ginger, apples and bananas. Add more oil, if necessary. Saute', stirring often over medium heat until tender and lightly colored, about 10 minutes.

Sprinkle the flour, curry powder, nutmeg, cardamom, and salt over the onion mixture, add the cinnamon sticks, and combine well. Cook, stirring constantly for 5 minutes to mellow and bring out the flavors of the spices.

Return the browned lamb cubes to the pot and add the chicken broth. Mix well. Bring the mixture to a boil over medium-high heat. Reduce the heat, cover, and simmer for 1 hour (until lamb is tender), stirring occasionally. The sauce should have a creamy, thick consistency. If it starts getting too thick, add a little more broth or water.

When the lamb is tender, remove the curry from the heat and gradually stir in the coconut milk and then the fresh cilantro.

Serve warm over Spicy Marigold Rice and accompany with Raita Cool Down.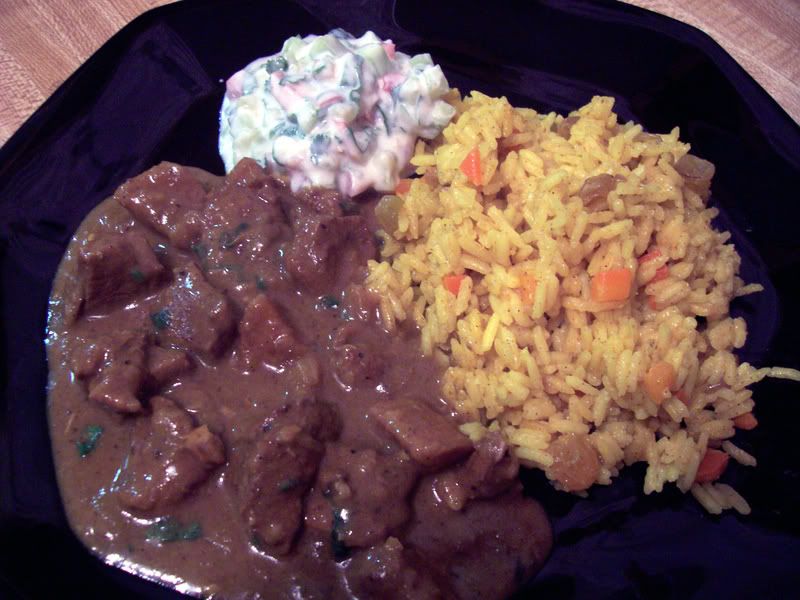 Served with Spicy Marigold Rice and Raita Cool Down