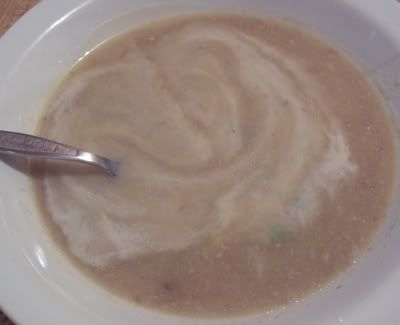 The Clone loves soups and this weekend, as if sensing that soup weather will soon be past again, she requested soup for dinner. She's always loved
Potato Leek Soup
but this time she said she would try mushrooms if it's in the soup. Normally, she wouldn't touch mushrooms. So just to get her eating them, I made her soup although I was already making another dish for everyone else. Well it turned out, everyone else had soup before their meal. 😀
INGREDIENTS:
4 Yucon Gold potatoes, peeled & chopped
2-4 cups of Leeks, chopped
1 cup Mushrooms,chopped
1 stalk of Celery, chopped
1 large Carrot, chopped
¼ cup Butter
8 cups Chicken Broth
Salt & Pepper to taste
½ cup Milk
Melt butter and saute' the leeks and celery for a few minutes. Add the mushrooms and cook a few more minutes. Add the carrots and potatoes, then the broth. Let it cook until the potatoes are fork tender. Season with salt and pepper. When the vegetables are cooked until tender, mash with a hand blender until smooth. Add the milk and blend in.
Serve with a sprinkling of chopped green onions or scallions on top. If you choose, add a little more milk or cream.