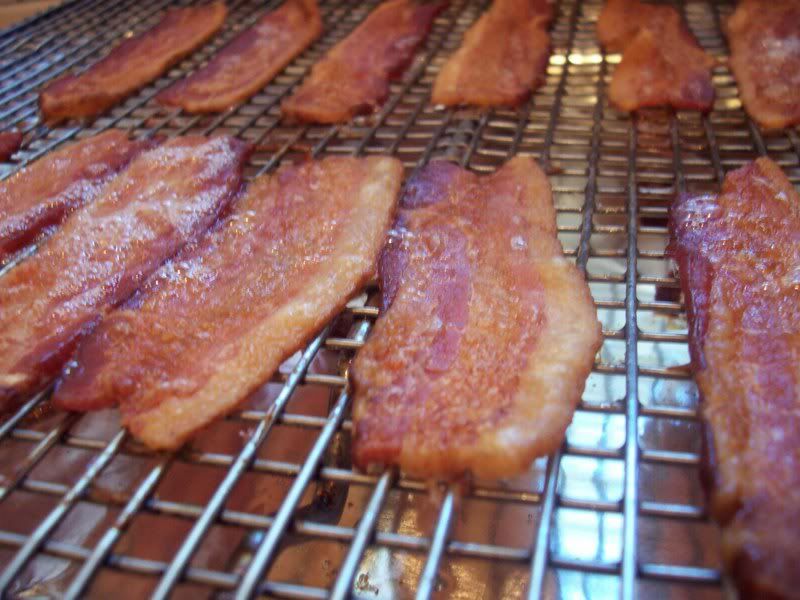 Bacon is one of our favorite breakfast items and we've had a love/hate relationship with it over the years. Some people in my household likes them extra crispy and some like them 'just cooked but still soft'. Over the years, we've had more like burnt, too hard, or not cooked enough instead. There were bacon that shriveled and there were some that got tough as hide. The round skillets were also not very bacon friendly especially when you like your bacon straight up rather than bendy.
When we discovered baking bacon, we were one happy family! See, when you bake bacon it gets to be nice and crisp without being greasy and some of the center ones (where it's not so hot) get cooked 'just right'. What I do is line a cookie sheet with foil to make clean up easier (You won't have to scrub burnt drippings and grease from your pan. Just peel and throw out) and on top of that place a metal rack. Lay the bacon across and bake at 400 degrees F for twenty minutes. The bacon comes out perfect everytime!
One last note: It is best to use the best bacon you can find. Since you won't be eating bacon every weekend, at least I hope you don't, you can afford to splurge a bit and buy the better quality bacon rather than the regular ones. I buy the thicker market style bacon, either with or without the pepper, but I try not to get brands that are overly sweet with maple syrup. My family just prefers it without the strong maple taste. Plus, it is less likely to burn when it doesn't have a lot of sugar in it.