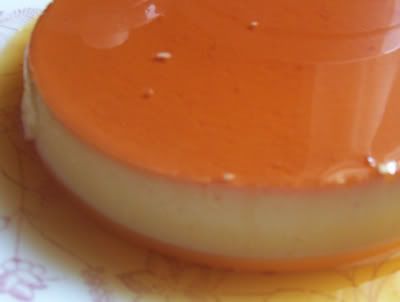 I posted previously a recipe for
Coco Flan
and
Pumpkin Flan
but I just realized that I hadn't posted a recipe for the Classic Leche Flan with just milk and eggs and no additional flavoring. Since I had 8 egg yolks that needed to be used up, I decided to make flan for our Easter dinner dessert. A great way to celebrate the egg.
INGREDIENTS:
8 egg yolks (can be reduced to 6)
1
12 oz. can Evaporated Milk
1
14 oz. can Condensed Milk
1/2 cup of Sugar
1/2 can of whole milk (to rinse out the condensed milk can – what can I say, I just hate wasting anything 🙂 )
1 teaspoon pure Vanilla Extract
Whisk all the ingredients together until well blended or you can also use a blender.
Prepare your cooking pans:
I used two 7 inch diameter round baking pans. To make the caramel sauce, put in each pan:
3 Tablespoons Sugar
1 teaspoon Lemon Juice
1 Tablespoon Water
Place the pan over medium heat until sugar is melted and bubbly. Cook just until you get an nice amber color. Don't leave it too long or the sugar will burn. I used thongs to hold the pan over the heat and to swirl the sugar mixture around to coat the bottom of the pan. Let the caramel cool before pouring in the flan mixture.
Alternatively, you can also put the sugar, lemon juice and water in a small saucepan and caramelize them that way then pour them into the round pans, but I'm always trying to save on the number of dishes I have to wash, ergo, I caramelize the sugar right in the pans. 🙂
Once you have your caramelized sugar ready, you can pour the flan mixture into the pans, dividing equally. Make sure you pour the mixture through a sieve to catch any remaining solids from the egg. This will give you a smoother flan. Cover each pan with foil and place in a large pan with sides. Place the pan in an oven (pre-heat to 350 degrees F) and pour enough hot water in the pan so that the level comes almost half way up the sides of the round pans. Cook at 350 degrees F for one hour or until the center of the flan is no longer jiggly.
NOTES:
You can cook it faster at a higher temp, but if you let the flan mixture come to a boil, you will end up with craters or holes throughout your flan. Some people don't mind the craters, it certainly doesn't take away from the flavor, but to others, the sign of a good flan is the absence of craters.
Most flan recipes call for egg yolks rather than whole eggs because that distinct 'eggy' flavor and aroma is mainly found on the albumen or whites of the egg. Some people find it unpleasant, but I don't really mind. I've had flans with whole eggs and they weren't bad at all. I just prefer the Filipino version of flan which uses mainly egg yolks and I think is a bit denser and full flavored than other versions.
To unmold, simply run a knife around the edge cover with your serving dish and turn over. Lift up the pan and it should lift right up, the caramelized sugar flowing to make a nice sauce over the dish.
I think leche flan is best served cold and worth waiting for. 🙂