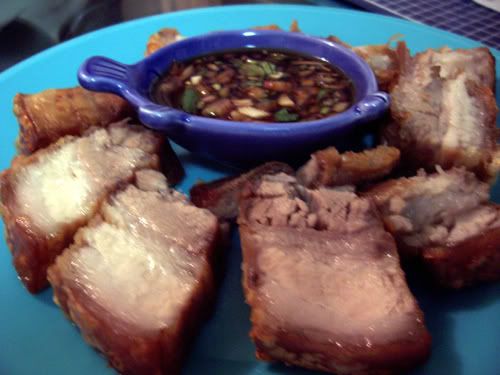 I get very excited when coincidences fall in place. I get excited by pork belly too, so can you just imagine how giddy I got when this morning, as I was getting ready to make this post and was checking emails, I run across this
ode to the belly
? If you
believe in signs
as I do, then you have got to take this as a sign that today IS the right day for pork belly.
I don't cook pork belly often but when I start getting that hankering for something fatty and delicious, this is the cut I immediately go to. My mouth waters just remembering this meal and it is oh so simple!

I started by braising the pork belly to tenderize it first.

In a small pot, place:
4-5 pieces of pork belly
1 Bay Leaf
4 whole Cloves
1 teaspoon of Red Pepper Flakes
2 teaspoons of Kosher Salt
3 Tablespoons of White Vinegar
4 cups of Water
Bring to a boil and reduce the heat to medium/low and simmer until all the liquid has evaporated and the fat is just starting to sizzle. By this time, the pork belly should be tender enough to easily pierce with a knife. This should take about an hour of braising.


Transfer the pork pieces on a foil covered pan with a rack and roast in the oven at 400 degrees F or until the skin is nicely browned and blistered. Slice into half inch thick pieces and serve.
In this instance, it was served with a balsamic vinegar dip with chopped red onions and cilantro. Yummy with rice!