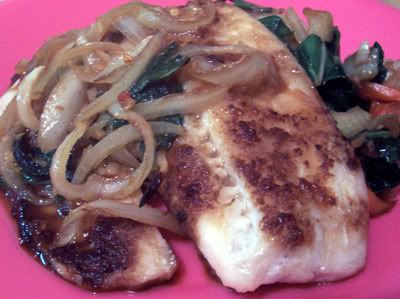 As a working mom who usually doesn't make it home until 6 p.m. to a house full of hungry children and husband, meals such as this, done in less than hour, is great to have in one's repertoire. The use of bottled teriyaki sauce makes it even simpler.This is another quick and yet still nutritious weekday meal.
INGREDIENTS:
5 Tilapia Fillets
Teriyaki Sauce
1 large onion, sliced
1 clove garlic, chopped
1 tablespoon Oil
Heat oil in a small skillet and saute' the garlic and onions until softened, about five minutes. Place the tilapia fillets on a baking dish and top with the teriyaki sauce and sauteed onions and garlic. Bake in a 400 degree F oven for 20 minutes.
Served with stir fried bok choy and carrots in oyster sauce.