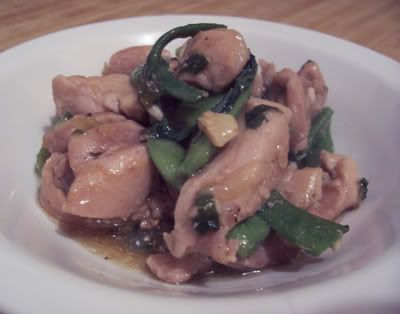 I'm trying to clean up my drafts folders and noticed that this dish, another regular on our quick weekday menu hasn't found it's way into this blog so I thought it about time for it to be written up.This is basically a quick stirfry dish best served with lots of steamed rice 🙂
INGREDIENTS:
4-6 boneless, skinless Chicken Thighs, cut into bite sized pieces
4 cloves of garlic, chopped
1 large onion, sliced
1 teaspoon fresh Ginger, finely minced
1 lb. Green Beans, cut into 1 inch length
Fresh Basil leaves, as much or as little as you have or want (I used lots, about a cup full of leaves, left whole)
3 Tablespoons Oyster Sauce (add more or less according to taste)
1 cup water
Dash of White Pepper
4 Tablespoons Oil
Heat the oil in a wok and stir fry the onions and garlic until fragrant, about 1 minute. Add the chicken and ginger and stir fry until the chicken pieces have taken on some color and are almost cooked. Add the green beans and oyster sauce, stir fry for a minute and add the water. Cover and simmer for 5 minutes. Stir in the basil leaves and white pepper and remove from the heat. Serve over rice.