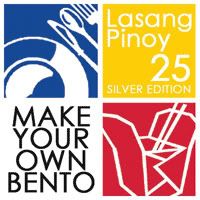 I was intrigued as I was starting to sweat this month's Lasang Pinoy Challenge, Make Your Own Bento, so I have been doing a little research. Because as much as I admire beautiful bento boxes, I really have no idea where to begin. The girls and I keep saying "we need to try making our own bento", but we really haven't had much success. The girls bought some cute bento containers when we were in California last summer, but we just fill them up with our usual lunch fare; sandwiches and left overs.
One of my favorite bento food blogs is Kaoko's Kitchen Cow. Her beautiful bentos inspire me, they make me wish I could be that creative. Probably not much chance of that happening especially since I still haven't come up with what to make for this month's Lasang Pinoy which is hosted by Ajay's Writing on the Wall. It's not too late to submit an entry!
If you've noticed on my sidebar, I'm a featured publisher on FoodBuzz a new site where people who love food congregate. Not too long ago, while browsing FoodBuzz, I came across Lunch in a Box, another bento site. The last post I read was about one of my favorite stores going online where pretty soon, you can get reasonably priced bento items just like at their store. They aren't up 100% yet, but you can start browsing and check back often for when their online store is fully open. Visit Ichiban Kan online.