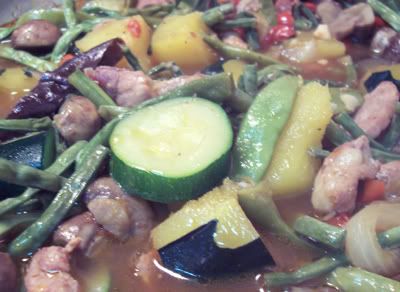 We've been eating too much meat and not enough vegetables so last weekend, we cooked us up a preview of things to come in
our garden
. We can't wait for summer! In the meantime, we had to content ourselves with market bought veggies. This is a quick and easy vegetable medley that can be a meal in itself.
INGREDIENTS:
1 pound Pork Loin, cut into bite sized strips
3 cloves Garlic, chopped
1 large Onion, sliced
3 Roma Tomatoes, diced
3 Tablespoons Oyster Sauce
Salt & Pepper to taste
Oil
1/4 cup water
Vegetables (Green Beans, Yard Long Beans, Mushrooms, Zucchini, Eggplants and Butter Squash) – you can use any combination of vegetables you like. The kind of vegetable we use all depends on what's available at the market.
Heat about two tablespoons of oil and stir fry the pork pieces until slightly browned. Add garlic and onions and cook for about two minutes until fragrant. Add the tomatoes and cook an additional five minutes until they have cooked down. Add the oyster sauce and 1/4 cup of water and start layering the vegetables in the pot according to which cooks the longest first. So here's how I layered my vegetables: beans, mushrooms, squash, zucchini and eggplants. Cover and cook for 5 to 7 minutes until all the vegetables are just done but still has some body. Adjust the seasoning with salt and pepper, stir through, and serve.
Easy peasy! 🙂