This month's Lasang Pinoy theme, hosted by Ajay, is make your own Bento. My daughters and I pack our own lunches for school and work and have always aspired to make them more aesthetic like the Japanese bentos; but our attempts have always been half-hearted at best because mornings are usually so hectic that we usually end up dumping in a lunch container, whatever is left over from the last night's dinner.
Now with the bento theme, we really had the best of intentions and had even scouted our local asian markets for bento boxes without luck. Then before we could assemble our bentos, life interrupted and I had to go away for a while. In the meantime, I had missed the deadline for posting for Lasang Pinoy!
My apologies to Ajay for this late post. This tiny bento was my daughter Jade's lunch before I went away.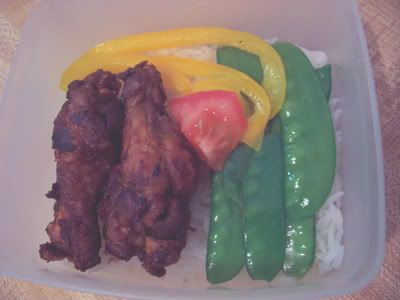 This is very simple but here's what was in this lunch:
Garlic Fried Chicken
Stirfried Snow Peas and Bell Peppers
Steamed Rice
We haven't given up on our attempts at more aesthetic lunches, we'll be posting future attempts here.
Thanks to Ajay for hosting this month's Lasang Pinoy.