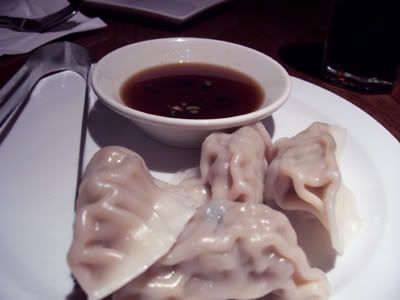 My girls love dumplings of any kind. One of their favorites to make and eat are potstickers. They are easy enough to make that they can now make them on their own, whenever they feel like it. Once made, they like 'em steamed, fried, boiled or in soup.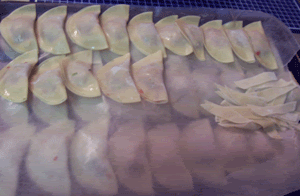 We usually make a pretty big batch and freeze them on cookie sheets like this, then when they are frozen, we pack them in plastic bags, ready to cook up at any time we feel like it.
The filling varies, depending on what we have on hand and what we feel like putting in, but the basic ingredients remain the same.
INGREDIENTS:
1 lb. Ground Pork (variations: beef, chicken, shrimp)
2 cloves Garlic, minced
1 shallot, minced (variation: green onions, brown onions or sweet onions)
4 dried shitake mushrooms (soak in hot water and mince fine)
1 Egg, beaten
1 Tablespoon Sherry or Rice Vinegar
1 teaspoon Sesame Oil
Salt, to taste
Mix all the ingredients together and fill the wonton wrappers. To fill the wonton, place a teaspoon of filling in the center of the wrapper and fold the edges together. To seal, simply moisten the edges with water and they will stick together.
If you have extra wrappers like we did, you can cut them in strips and fry them up for some delicious and crunchy chips.