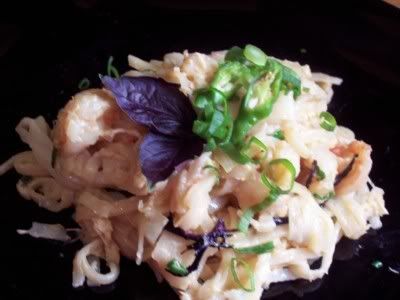 I love happy accidents… especially in the kitchen! This was one of them. One Sunday afternoon when the craving for noodles hit but the pantry was almost bare and I was too lazy to go out to the store, this happy accident happened from leftovers in the fridge, believe it or not. Since then, Jade has requested this dish numerous times. We've done some variations on the recipe, especially the meat used, and it always comes out delicious. It's also great with veggies!

At the time I first made this dish, I didn't have any veggies in the refrigerator except for the purple basil from the garden and a couple of peppers. Those were the inspiration for this dish.
INGREDIENTS:
1 pack wide Rice Noodles
2 cloves Garlic, chopped
1 small Shallot, chopped
1 cooked Chicken Breast, shredded
1/2 cup Coconut Milk
1 Tablespoon Lime juice
2 Tablespoons Oyster Sauce
1 Tablespoon Fish Sauce
1 fresh hot pepper, sliced thin
1 Tablespoons shredded Purple Basil
3 green onions, sliced thin
Oil
Cook the rice noodles in boiling water for about 3 minutes or just until they are al dente. Try not to over cook them as they can start falling apart on you when you stirfry. Drain, and set aside.
Heat some oil in a wok and add the garlic and shallots until they are fragrant and are starting to brown on the edges. Add the chicken, coconut milk and sauces and let it come to a simmer. Add the noodles, toss together. Season to taste, and add the chili pepper, basil and green onions just before serving.