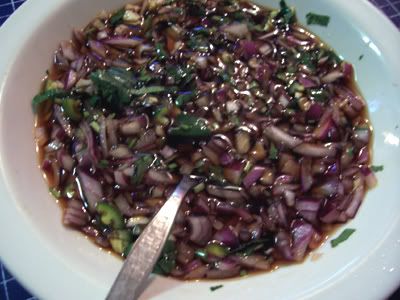 Remember the
roasted pork belly
we cooked up not too long ago? We served it with this soy and vinegar dipping sauce that is common at our table.
I grew up with dipping sauces with meals. Something that my husband couldn't get used to. He always says, "why didn't you just put it on the food when you were cooking it?" Well it's a matter of taste and flavor, I think. You can adjust and enhance the flavor of your food by having dipping sauces, if it's nothing but a small pinch of salt at the table. I think the ritual of adjusting your seasonings, to match your individual taste, at the table adds to the dining experience. Although I have heard of cooks who take offense to someone 'adjusting' their creation, I think having the option of sauces at the table involves the diner to participants in the enjoyment of food rather than just mere spectators.
This dip is very versatile. It can be used to enhance a variety of foods and can be adjusted to suite individual preferences. For instance, I love cilantro so I put it on mine, but someone who doesn't can leave it out. This soy vinegar concoction is great over meats, on vegetables (see the green bean salad we use it on as dressing) and definitely great for dipping potstickers and fried eggrolls (lumpia). Oh and if you love fresh oysters and sashimi, this sauce is great with them too!
To make the sauce, just mix the following in proportions to suite your taste:
Soy
Vinegar (you can use any type you want: cider, balsamic, white, red, wine, etc.)
Optional additions:
Onion
Cilantro
Peppers
Tomato