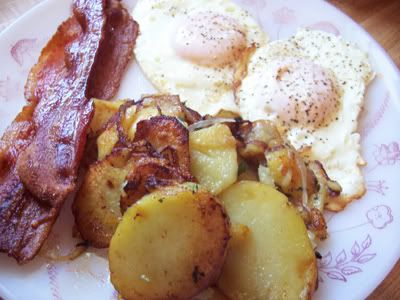 This was last weekend's breakfast that I think will be repeated this weekend. The girls loved the fried potatoes. In fact, last night when we had some grilled steaks, they were asking for these to go along with the steaks, but Jade had already made mashed potatoes, so I told them next time.
My step-dad who was from Kentucky but raised the Southern way, introduced me and my sisters to this dish. But whenever I tried to cook it, I always ended up burning the onions before the potatoes could brown and crisp up. Finally, I came up with another way to still get the onion flavor without burning them. I usually like to use sweet onions for this recipe, but regular old brown or yellow onions work nicely too.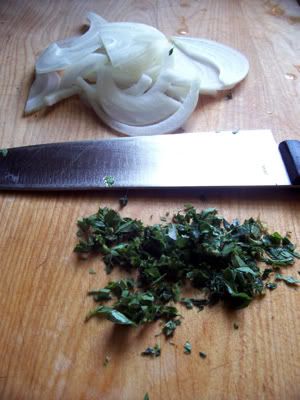 These are very easy to make. You can make them while the bacon is baking and they should finish up about the same time.
You'll need:
Potatoes, sliced into rounds about 1/8 of an inch thick
Onions
1 teaspoon each of fresh thyme and oregano (optional)
Oil
Salt & pepper to taste
Begin by heating up about two tablespoons of oil in a heavy bottomed pan and layer the potatoes in the pan.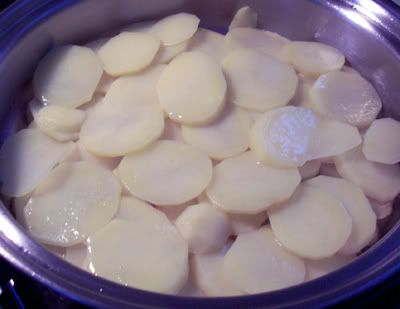 Let them get a nice brown color and turn them over.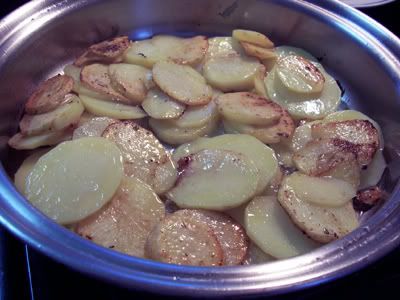 Put the onions on top of the browned potatoes, put the lid on and cook until the other side has had a chance to brown too.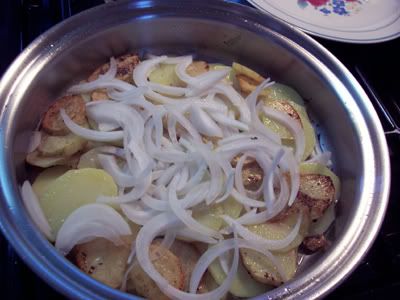 When the potatoes and onions are cooked, stir in the fresh herbs, season with salt & pepper and let it cook for another minute. Then dig in!