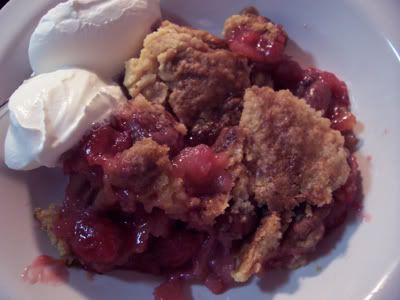 This is called Cherry Crisp but around here it is more commonly referred to as Cherry Dump Cake. My daughters hate that name though since they have an aunt who associates that second name to something totally disgusting. 😀
Anyway, this is a very easy cake to make, certainly way below the Daring Baker meter, but perfect for kids. My ten year old daughter, The Clone, can do this by herself. You will see from the recipe how this treat got its name. You basically dump everything in a pan, bake it and you get something very yummy and delicious.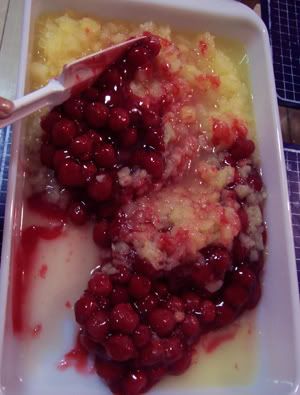 INGREDIENTS:
1 12-15 oz. can Cherry Pie Filling
(you can also use other flavors like blueberry, blackberry, strawberry, etc.)
1 can (12-15 oz) Crushed Pineapple

1 box Yellow Cake Mix

Nuts (optional)
1 stick of Butter
Dump the Cherry filling and Crushed Pineapple in a 9×13 inch, oven safe, dish and mix them together.

Add a layer of nuts. You can skip this step if you don't like nuts in your cake but I think it's a nice texture contrast.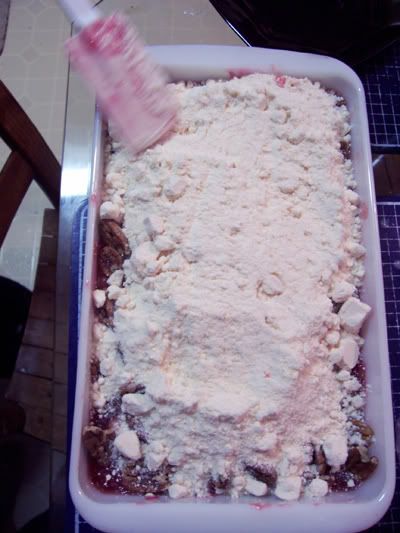 <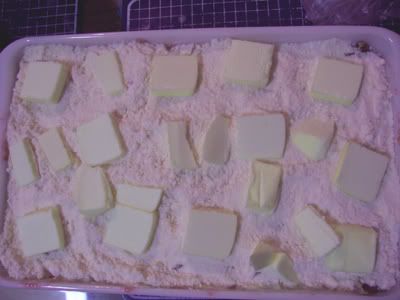 Next, dump the yellow cake on top and dot with the stick of butter that has been cut into pieces.
Bake at 350 degrees F for about 40 minutes or until it is browned and bubbly, cool and serve.