One of my favorites fruits is papaya. My daughters have never been very fond of it and couldn't understand my liking for it. That is, until they went home to the Philippines in 2006. They are still gushing about the papaya they had over there. Sadly though, that just made them turn their noses up even more to the bland papayas that we get here.
I don't ever learn my lesson though, that's how strong my attraction is to this fruit. Every time I see one at the store, I just can't pass it up. My daughter says to me, "I don't know why you're getting another one, you'd just be disappointed." She's right, more often than not, I end up getting disappointed that they aren't sweet enough or fragrant enough. However, as I was raised by a grandmother who won't waste anything especially food, I try to eat it up anyway.
This is a tip from the same grandmother that I'm glad to say even my finicky papaya snobs won't turn their noses up on.
When you have a not perfectly ripe papaya or one that just isn't very sweet, try spritzing it with lime juice and a sprinkling of sugar. The combination brightens up the flavor to something quite pleasant and refreshing.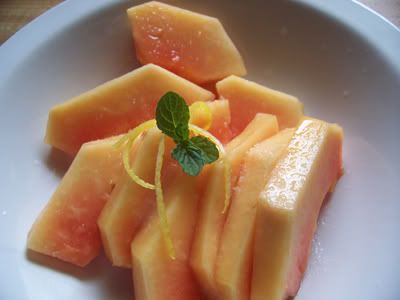 This photo is submitted for the La.Pi.S (Lasang Pinoy Sundays) conceived by Ces to feature Filipino food or foods cooked up by Filipinos through photographs. This is going to be a weekly event, so make sure you visit the La.Pi.S. portal for the week's theme.
This week, the theme is PRUTAS (fruits)!