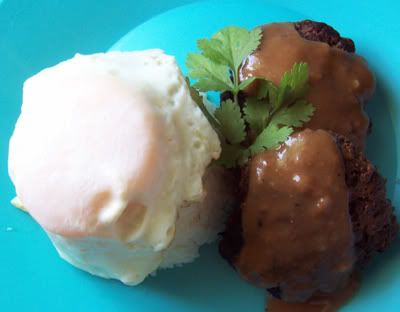 Here's another breakfast treat. I know, since school let out for the summer it seems we've been cooking up a lot of breakfasts. This is a Hawaiian specialty and it's a great way to use up leftover hamburgers from the night before. All it is
hamburger patty
, topped with brown gravy and served with steamed rice and eggs.
Based on the Giblet Gravy previously posted, making gravy is really quite easy. To make this brown gravy, here is what I did:
HOW TO MAKE GRAVY
Get half a stick of butter (4 tablespoons) and melt it until it starts to brown and most of the solids are starting to turn brown. Add 4 tablespoons of flour (notice the amount of flour equals the amount of butter) and stir it in the butter for a couple of minutes or until it has taken on enough color to your liking. If you like a light colored gravy, don't cook it as long whereas if you like a nuttier and browner gravy, cook it until your roux (flour and butter mixture) is a nice brown color but not burnt. Stir it often to keep your roux from burning. You don't want that burnt flour taste in your gravy.
Take 2 cups of chicken or beef broth and add to the mixture while stirring with a whisk to avoid lumps. If you do not have broth on hand, you can use 2 cups of water and a bullion cube. You can use plain water too, but of course you won't have the flavor. Adjust your seasoning by adding salt and pepper or any herbs to your liking. For this version, the chicken broth I used was salted enough that I didn't have to add anymore.
Let the gravy simmer until it is nicely thickened and spoon over your loco moco.