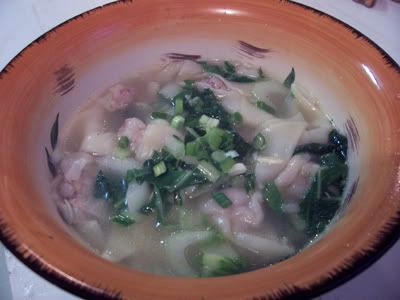 Summer and soups almost don't seem to go together, but they do in this case. One, this is perfect for hot summer nights because it's easy to prepare and doesn't take a long time to cook, thus keeping the kitchen cool. It's light enough for when it's just so hot you don't want to move but still filling enough to keep you satisfied. Lastly, and most people who live in hot tropical climes will tell you this same thing, is that when you eat something hot, you sweat thus cooling off your body! Yeah, I have a hard time convincing my kids on the last point, but this soup is so delicious they just take my word for it.
First off on the easy part, it helps if you have some pre-made wontons sitting in your freezer. We still had some from the time we made a bunch of homemade potstickers.
Then all you'll need additionally will be:
Chicken or Vegetable Broth
Leafy vegetable like cabbage or in this case, swiss chard
Scallions or Green Onions (optional)
Heat your broth, drop in the desired number of wontons and let boil until cooked through. Add your veggies, and serve!
Easy peasy, right? 🙂