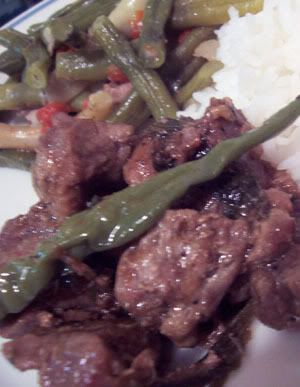 One thing about the girls being away, my husband and I have been too lazy to cook or eat. We even ate just a piece of the hazelnut/Almond cake below for dinner one night. Other nights we had breakfast for dinner. The evening we cooked this braised pork was not different, but we had some vegetables that needed cooking and that guilty pang from not eating a balanced meal was starting to get us so we thought we better cook something. I hadn't been shopping much either so all we had in the freezer was some chicken wings and a pork butt (I know, sounds appetizing, doesn't it? LOL!).
Anyway, I sauted a combination of green beans and yard long beans to accompany this pork dish.

3 lb. Boston Butt Roast, cut into 2 inch chunks
1 Tablespoon Olive Oil
4 cloves garlic, chopped coarsely
4 stalks of onion leaves, chopped

5-6 fresh Cayenne peppers, whole
2 Tablespoons Soy Sauce
2 Tablespoons Red Wine Vinegar
Salt & Black Pepper to taste
Water to simmer until tender (about 6 cups)
Heat oil in a skillet and briefly brown the pork. Add the garlic and let it cook with the pork for a couple of minutes. Add the green onions and the rest of the ingredients. Add 2 cups of water and let it simmer until the pork is tender and almost all of the water has dried out. Check constantly and add more water, a cup at a time as needed until the pork is tender.