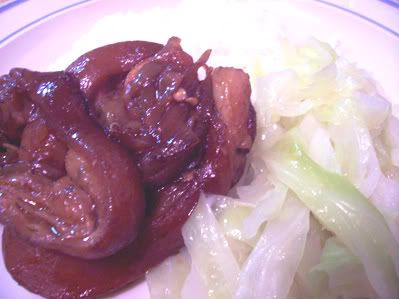 I cooked this dish a while back but hadn't posted it because I wasn't happy with the washed out photo and I was hoping to cook it again and take a better photo. But, of course that hasn't happened and I am in a cleaning up mood. I plan on cleaning out my drafts folder this month, so here goes. I got hungry just thinking about this dish so I had to take a break and go eat dinner first 🙂
Anyway, this dish was adapted from Oggi's Pata Tim which she cooked up for Lasang Pinoy's January event which featured dishes cooked in a crockpot or slow cooker. When I made this version, I didn't have time to cook it in a slow cooker but rather went to the other extreme and used a pressure cooker for another fast weekday meal.
So here is Oggi's recipe with my modifications [in brackets] to use up what ingredients I had in my pantry.

INGREDIENTS:
2-3 pounds pork hocks
2 T chopped scallions [1 small onion, chopped]
1 T chopped ginger [1 Tablespoon pickled ginger (gari), chopped fine]
¼ cup Soy Sauce
¼ cup Dark Brown Sugar [I used light brown sugar]
1 tsp. Salt
1 cup Rice Wine or Sherry [I used red wine vinegar]
1 cu Water plus more if needed
[1 Jalapeno, chopped] optional
Place the pork hocks in a pot (you can use the pressure cooker pot, just don't put it under pressure yet) and bring to a boil, skimming any scum that surfaces. Let it boil for 15 minutes, remove the hocks and pour out the water. Rinse off the pot if necessary.
Return the hocks to the pot along with the rest of the ingredients. Seal the pressure cooker and let it come to a boil. When pressure is reached and the pot is hissing, lower the flame to medium high and let it pressure cook for 40 minutes. After 40 minutes, the pork hocks should be tender but not quite falling apart yet. If it's not tender enough to your liking cook it under pressure for another 15 minutes.
Serve with rice and vegetable of your choice.