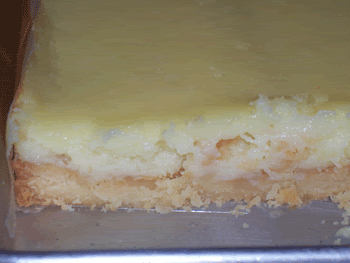 My girls and I love anything lemon flavored be it savory or sweet. One of our favorites is lemon tart. We had made a
version from Paul Newman's Hole in the Wall Gang Cookbook
previously and loved it. So we decided to try another version, this time from Donna Hay. As you can see from the photo, the tart was still a little warm , that's why it looks soft and not quite set, but someone couldn't wait for it to cool thoroughly. For best results, especially if you want a nice photo, unlike this one, you should wait for it to cool.
The proportions were on the small side of our hungry family of five so I adjusted the proportions a bit to fit a 9×13 pan instead of the 8×12 recommended in the DH Modern Classics cookbook
. Here's our version…

INGREDIENTS:
Crust
1 cup Sugar
2 ½ cups Flour
8 oz. (2 sticks) Butter
2 Tablespoons Milk

Preheat oven to 330º F. Mix all the crust ingredients together in a food processor or by hand until the dough comes together in a ball. Cover the bottom of your baking pan with lightly buttered parchment paper. Spread the crust into the bottom of the pan by pressing with your fingers until it spreads all the way to the edges. Try to keep the thickness as even as possible. Bake for 30 minutes or until golden brown.

Topping
¼ cup plus 1 Tablespoon Cornstarch
2 cups Milk
8 Eggs
2 ½ cups Sugar
1 ½ Tablespoons Lemon Rind (finely grated)
¾ cup or the juice from 4 Lemons

In a saucepan, mix all the topping ingredients together. Stirring constantly, cook over low heat for approximately 7-15 minutes until you get a pudding like consistency. Pour the topping over the crust and bake for 5 minutes or until the topping is set.

Let cool in the pan before cutting.