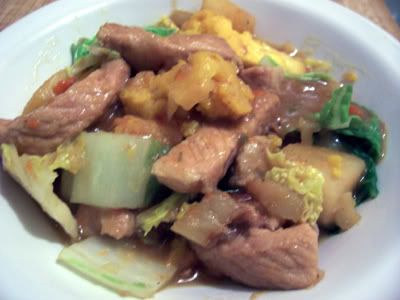 Curried dishes is a big favorite in our house thus it has also become a standby dish. When we can't think of anything to cook, we start pulling things out of the refrigerator, add curry and presto! We've got dinner on the table.
We had previously posted another pork curry dish but since this one uses more vegetables and is not as saucy as that one, I figured it needs its own space and recipe. Also, this curry has the addition of a new novelty vegetables I've been seeing at the grocery store, orange cauliflower! They also had purple, but the girls said that was just too weird. 🙂

INGREDIENTS:
2 lbs. Pork loin, cut into strips
6 cloves Garlic, chopped
1 inch of fresh Ginger, peeled and minced
1 Onion, sliced
1 Jalapeno Pepper, seeded and chopped
2 ribs of Celery, sliced into half moons
2 Carrots, peeled & sliced
1 small orange Cauliflower, cut into florets
½ a Napa Cabbage, cut into 1 inch pieces
3 yucon gold Potatoes, cubed
3 Tbsp. Oyster Sauce
1 14 oz. can of Coconut Milk
½ can of Water
2 Tbsp. Curry Powder
Salt, to taste
3 Tbsp. Butter
Melt the butter over medium heat and add pork. Stir fry until edges are starting to brown. Add garlic and ginger, stir fry for a couple of minutes then add the onions and jalapeno peppers. Cook for a couple more minutes.
Add the carrots and celery, stir in the oyster sauce and curry powder. Add the coconut milk and water and bring to a boil. Add the potatoes and simmer on medium low for 15 minutes. Add the cauliflower and cook for 5 minutes. Add the cabbage, stir through. Adjust the seasoning; add more salt as necessary and turn off heat.