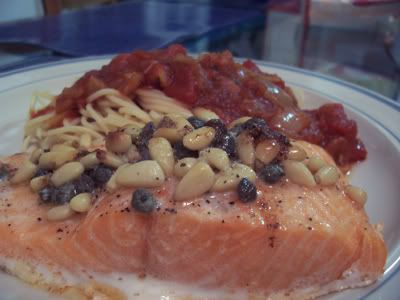 I wish we had more variety in the seafood that we can get here in Durham, but most of the time I am limited to what Costco carries and they only carry salmon, tilapia, trout and the occasional tuna. While I love salmon and can eat it every week, my husband is reaching his breaking point when it comes to salmon. He would almost rather go out and get a nasty ol' Dog House hot dog than eat salmon another day. Well, ALMOST, I said. He just threatens to go but he always resigns himself to eating salmon anyway. 🙂
One of the favorite ways my husband likes tilapia cooked is with capers and pinenuts. So I thought I'd use those same ingredients here but bake it instead of frying it. This is so easy to make there is almost no recipe. Here's what you need to do…

Place a side of salmon on a baking dish and top with: capers, pinenuts, butter and lemon juice. Bake in a 400 degree F oven for 20 minutes and dinner is served!
There are no measurements as I just put what 'feels' right. I didn't add any additional salt either as the capers are quite salty already. I used one lemon which I squeezed across the length of the salmon, and probably 4-5 tablespoons of butter scattered in pats over the salmon.
By the way, I found that cooking the salmon in high heat for a short period of time produces a flakier and moister fish. If you cook it longer than 20 minutes, you may end up with a tough and dried out piece of fish. HOWEVER, if your salmon is still slightly frozen or icy, you may want to cook it a little longer so you don't have a raw and cold middle layer. It's not very good 🙂