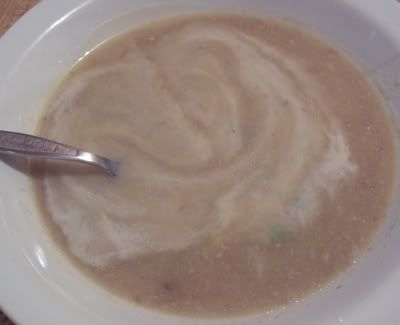 My youngest daughter loves soups, especially blended soups lately, so you'll be seeing more of these type of soups until she gets out of this phase 🙂 She also doesn't want any meat in her soups. This was her latest favorite. I used cremini mushrooms for this but you can use any variety of fresh mushroom available.
INGREDIENTS
16 oz. Cremini Mushrooms, sliced
4 Tablespoons Butter
3 Garlic Cloves, roasted
1 onion, sliced & roasted
1 Tablespoon fresh Thyme
1 Tablespoon Olive Oil
8 cups Chicken or Vegetable Broth
1 cup heavy cream
Salt & Pepper to taste
Start by roasting the garlic and onions in the oven. Toss the peeled garlic and sliced onion in the Olive oil and place on a skillet or baking pan. Turn the oven setting to 'broil' and place the onion and garlic about 8 inches from the flame. In my oven, this was the second to the highest rack position. You don't want them to burn too fast, just enough so the edges start to color, about 10-15 minutes and they are just starting to get soft. In the meantime, heat your soup pot and melt the butter. Add the the mushrooms and saute' them until they are lightly browned. Add the thyme, roasted garlic and onions and cook for a couple of minutes until they start to caramelize. Add the broth season with a bit of salt and pepper and let it simmer for about 20 minutes to blend all the flavors.
When it has simmered for a while, check and adjust your seasoning and turn off the heat. Use an immersion blender to smooth the soup. Slowly blend in the cream as you're blending.
If you don't have an immersion blender, you can use a regular blender but remember to cool the soup first before blending so you don't end up with a soup explosion.
You can add a bit of cream before serving.