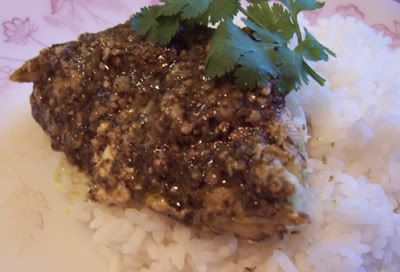 This easy and very delicious dish was borrowed from the Pinoy Cook. I didn't change much of the recipe except for the nuts and type of fish used. Since this first try, we've made it a regular on our menu, changing up ingredients depending on what we have. I used this dish on king crab legs, for instance, and it was delicious!
I've baked salmon with pesto before and it was delicious. This one, however, is not baked but rather poached in the lemony pesto sauce. All I can say is, you've got to try it.
Here's the basic recipe: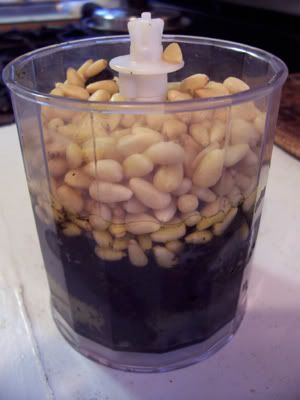 INGREDIENTS:
6 Tilapia fillets
1 cup fresh Basil Leaves (or, as in the case when we first made this dish when we didn't have fresh basil but had plenty of frozen)
4 cloves Garlic
1/2 cup Pine nuts
¼ cup Lemon juice
Salt & Pepper, to taste
1½ cup Extra Virgin Olive Oil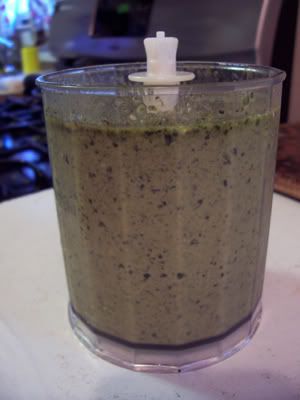 Place all the ingredients except the tilapia in a blender or food processor and blend until you get a smooth pesto sauce. If the sauce seems too thick, add more olive oil as needed. Pour the sauce in a skillet large enough to hold the fish fillets, and bring the sauce to a simmer. As the Pinoy Cook said, heat the sauce 'gently' don't let it come to a boil. When the sauce is at a simmer, lay the fillets in the skillet, spoon some of the sauce over them. Cover, and let the fish poach in the pesto sauce for ten minutes or until the fish is cooked through.
These can be served with pasta, but they are also very good with rice.