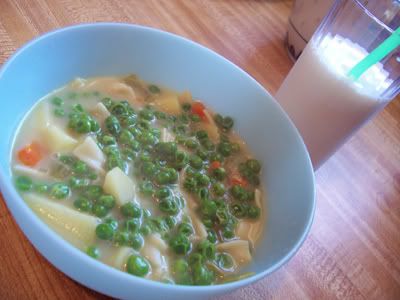 Still cleaning out my photobucket pics 🙂 Here's another easy peasy soup. You know how my daughter, The Clone just loves soups. This is another one of her favorites. We cooked this up for lunch this summer when they were all home and we decided to clean up the freezer.
While digging into the recesses of the freezer, guess what we found? A turkey carcass that I had wrapped up I think, from our Easter dinner! Well that thing had to get out of there, so in a stock pot it went along with a large onion, a couple of cloves of garlic, a couple of carrots and celery, and enough water to cover it all. Boil this down for about an hour or so and you'll end up with a delicious turkey flavored broth. Strain all the veggies and bones out of the broth and use in the recipe below:

Turkey Soup with Potato, Carrots and Peas
INGREDIENTS:
8-10 cups of Turkey broth (of course chicken or veggie broth would work too)
4 medium sized Potatoes
1 Onion, sliced
2 Carrots, diced
1 small pack of Frozen Peas
Salt & Pepper, to taste
Put all the ingredients in a pot, except for the peas, and bring to a boil. Cook until the potatoes are tender. Adjust your seasonings. Add the peas, cook for another 5 minutes and serve!
Easy, right?