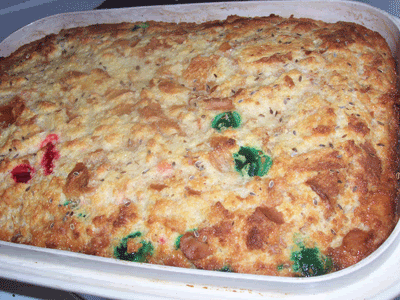 I hate to waste food and I love bread puddings, so this is my usual way of using up old bread. However, my husband is not too crazy about it and the kids say they are not either. However, whenever I make bread pudding it sure gets gone pretty fast 🙂 I have several bread pudding recipes on this blog already and they will probably be listed at the end of this post under 'related post' is you care to check them out.
This version came about last weekend when our 18 year old refrigerator finally conked out on us. We had milk and eggs that needed using up along with some bread. Sounds like the makings of a bread pudding, right? You're right. Among the stuff from the fridge that either needed to be consumed or tossed were three partial bottles for halo-halo. We had some Nata de Coco (here's the Wikipedia definition) in two colors and Kaong (Sweet Sugar Palm).
Are you seeing where this is going? Yep, I threw the Nata de Coco and Kaong in the bread pudding mixture too. Sort of like how I did with the Bread Pudding with Dried Fruits. Since the Kaong and Nata were suspended in syrup I altered the recipe a bit to reduce the sugar.

INGREDIENTS:
1 cup of halo-halo mixture (Nata de Coco & Kaong)
6 eggs
1/2 cup sugar
2 cups milk
6-8 cups cubed bread
1 teaspoon Vanilla extract
Mix all the ingredients together and mix well. Let it soak together while preheating the oven to 350 degrees F. Bake for 1 hour and 20-30 minutes or until it passes the toothpick test. That is, when you insert a toothpic in its center, it comes out clean and no longer wet.
The photo above was taken after I took it out of the oven. I meant to take another photo of the insides, but I totally forgot. It must have been pretty good though because by the time I thought about taking a picture, all the bread pudding was gone!