One of my favorite food blogs, Market Manila, is in the running for the Philippine Blogs Award's Blogger's Choice Award.
Why do I love the Market Man? For one, anyone who loves pork as much as this guy is after my own heart. I mean, just look at the screen shot I took of his blog today. It's pork belly, people! Not only that, the guy built a grill pit just for his lechon experiments. He's been roasting whole pigs in his backyard! Man, wouldn't I love to be his neighbor. I bet he has lots of leftovers to share 🙂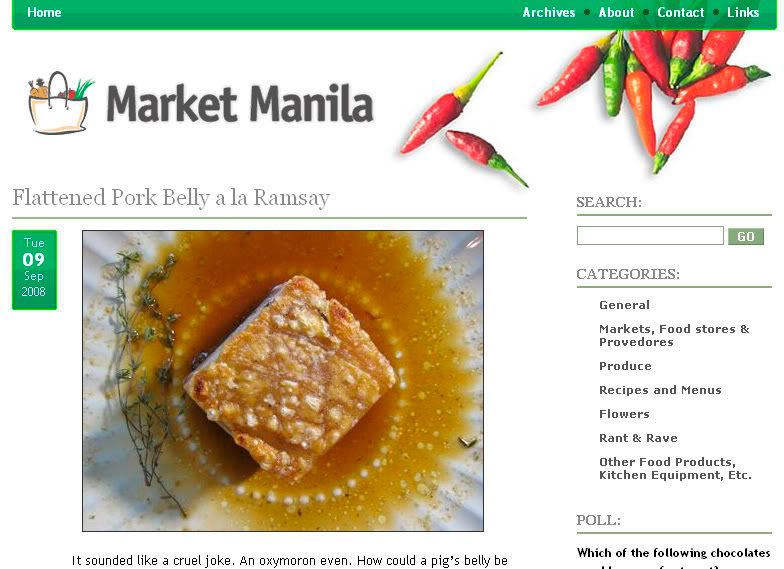 Whether he's talking pork, seafood or sweets, MarketMan is truly passionate about food. He writes beautifully and the photos are always drool worthy. His blog does an excellent job of showcasing Filipino cuisine.

If you're a Market Manila fan, make sure you go and vote for him.
The Blogger's Choice Award is sponsored by the following:

Level Up! Games
Nokia
Blog Bank
Smart Communications
Josiah's Catering
Rsun Technology Store
Yahoo
XFM 92.3
Buddy Gancencia Reality TV
Ultravision Photo and Video
Click Booth
Aloha Board Sports
Sheero Media Solutions
YourPinoyBroker.com
Belo Medical Group
Inquirer.Net
Toshiba
ROAM Magazine
PLDT